4 Weeks to a Clutter Free Home: Bonus – 14 Home Organization Tips!
You can find all the posts in the 4 Weeks to a Clutter Free Home challenge here. 
After trucking along for two weeks in our four week challenge, a few people have been asking me for some tips on how to organize their spaces. Because everyone's home is different and what works for me may not work for you (plus I don't have all that many great ideas of my own), I've asked a few of my blogging friends to share their tips. I've also searched online and found a few pertinent posts that may be helpful for anyone looking for some ideas.  Enjoy these 14 home organization tips that I thought were quite clever!
Quick Links to Info on This Page
Closet Organization
Family Food and Travel:  EASY CLOSET ORGANIZATION/MAKEOVER

Mommy Moment:  Before & After with the Rubbermaid Closet Helper System

Ray and Jen:  The Ol' Switcheroo
***********************
Entry Organization
A Busy Mommy:  Bookcase Makeover
***********************
Small Space Organization (Laundry room and other small spaces)
Hobbies on a Budget:  Small Space Organization Ideas
Little Lucy Lu:  Ladder Laundry Rack
My Sweet Savannah: Laundry Room Organization
***********************
Kitchen/Pantry Organization
Domestic Imperfection:  Pantry Organization
Goodbye, House! Hello, Home!:  Organize your refrigerator
Tidy Mom:  Organizing the Kitchen
***********************
Bathroom Organization
Superwoman:  2-Minute bathroom organization
Liz Marie Blog: Bathroom Organized
***********************
Bedroom Organization
Organize and Decorate Everything: Organized Boys' Bedroom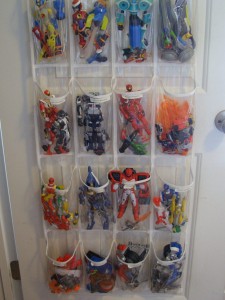 Happily A Housewife: Kids Bedroom Organization
I hope you have found some of these tips useful; and don't forget to join us in the 4 Weeks to a Clutter Free Home Challenge!  You can find all the posts in the series listed below:
More posts in the 4 Weeks to a Clutter Free Home challenge:
4 Weeks to a Clutter Free Home: Challenge #11 Outcome