You know what I really love about a TV series or a movie? I love when the actors/actresses are really in love with what they are doing, and are totally immersed in just being part of the character they are playing and the show they are creating.
That is the exact feeling I got after chatting with Vanessa Marshall and Tiya Sircar, the voices of Hera and Sabine (respectively) in Disney's new series Star Wars Rebels. They were both so very excited to be part of the Star Wars family, as well as to be able to play such strong and dynamic characters. I just loved that they were so genuinely excited about the roles they play.
About Star Wars Rebels
Star Wars Rebels is a brand new half hour series that premieres October 13 on Disney XD. Rebels, set five years before the events of Star Wars: Episode IV A New Hope, tells the story of the Rebellion's beginnings while the Empire spreads tyranny through the galaxy.
Check out this quick video taking a look inside the debut episode "Spark of Rebellion."

Rebels Recon: Inside "Spark of Rebellion" on Star Wars Video
Meet Sabine
Sabine, played by Tiya Sircar, is a graffiti artist/weapons expert who is Mandalorian – meaning she is well versed in explosives!
Meet Hera
Vanessa Marshall is the voice of Hera, pilot of The Ghost (space ship).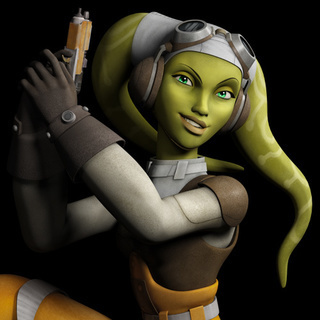 Vanessa and Tiya on strong female characters
I am all about strong female characters in movies and TV series. In fact, some of my favorite shows end up being the ones where women take then lead and portray a really strong, forceful character. I really like that kinda stuff, so it is no surprise that I just loved the characters Hera and Sabine, played by Vanessa and Tiya. Here is what they had to say about the characters:
Vanessa: I do think it's really wonderful that Star Wars Rebels embodies two female characters that we all can aspire to act like them whether we're adults or children or even little boys or little girls. I've said before that the empire universally oppresses all races and all gender to where it sort of neutralizes elements.  These aren't good women or good female characters.  They're all good people.

Tiya: I think it's amazing to get to play these two smart women.  They are right there alongside the guys, beating up the bad guys. And you know, I hope that young girls and young boys can aspire to be like these characters because they're fighting for the greater good. They're doing the right thing and they're just like really smart and savvy about it while they're doing it.  
More on Star Wars Rebels
I truly fell in love with this series after just one episode. As we were watching the screening I just kept thinking, "my kids are gonna love this!" Not only will my kids love it, I loved it and couldn't wait to see more! It is one of those shows where you just can't wait for the next episode and we will be on pins and needles each week in anticipation – be sure to check out out yourself and you'll see what I mean!
Want more? Be sure to check out my interview with Freddie Prinze Jr. and Dave Filoni! Also, follow @DisneyChannelPR and @StarWars for the latest news on #StarWarsRebels, and check out StarWars.com for more exciting news on the series.
[Tweet "Are you ready to Join The Rebellion? #StarWarsRebels #DisneyInHomeEvent"]
Disclosure: I received an all expenses paid trip to Los Angeles for the coverage of several press events for Disney. All opinions are 100% my own.