This article is sponsored by A Girl's Guide To Cars and cars.com. Any opinions are my own.
After attending the Chicago Auto Show this year I can definitely say there are a lot of amazing new vehicles out there. I fell in love with a new truck brand, saw some concept cars that were really neat, and was blown away by all of the features that most vehicles are incorporating into the new models.
---
I could go on and on about what I loved about loads of different vehicles featured at the auto show, however, when I am looking at vehicles, I look with one thing in mind. Will this work for a family?
You know what I mean. Are there enough cup-holders for all the kids? Can I easily get a car seat in and out without playing twister, is there enough storage space for all our stuff, are there heated seats? All the things a family would consider when looking at a new vehicle.
My family is especially tricky because we are a family of six which means our options tend to be a little more limited. We need space and lots of it.
While I don't think any of the vehicles I saw at the auto show can go so far as to claim you will not have any more sibling fights in the back seat (a girl can dream, right?), they do have loads of features that were very impressive.
Top Picks For Family Vehicles
Pacifica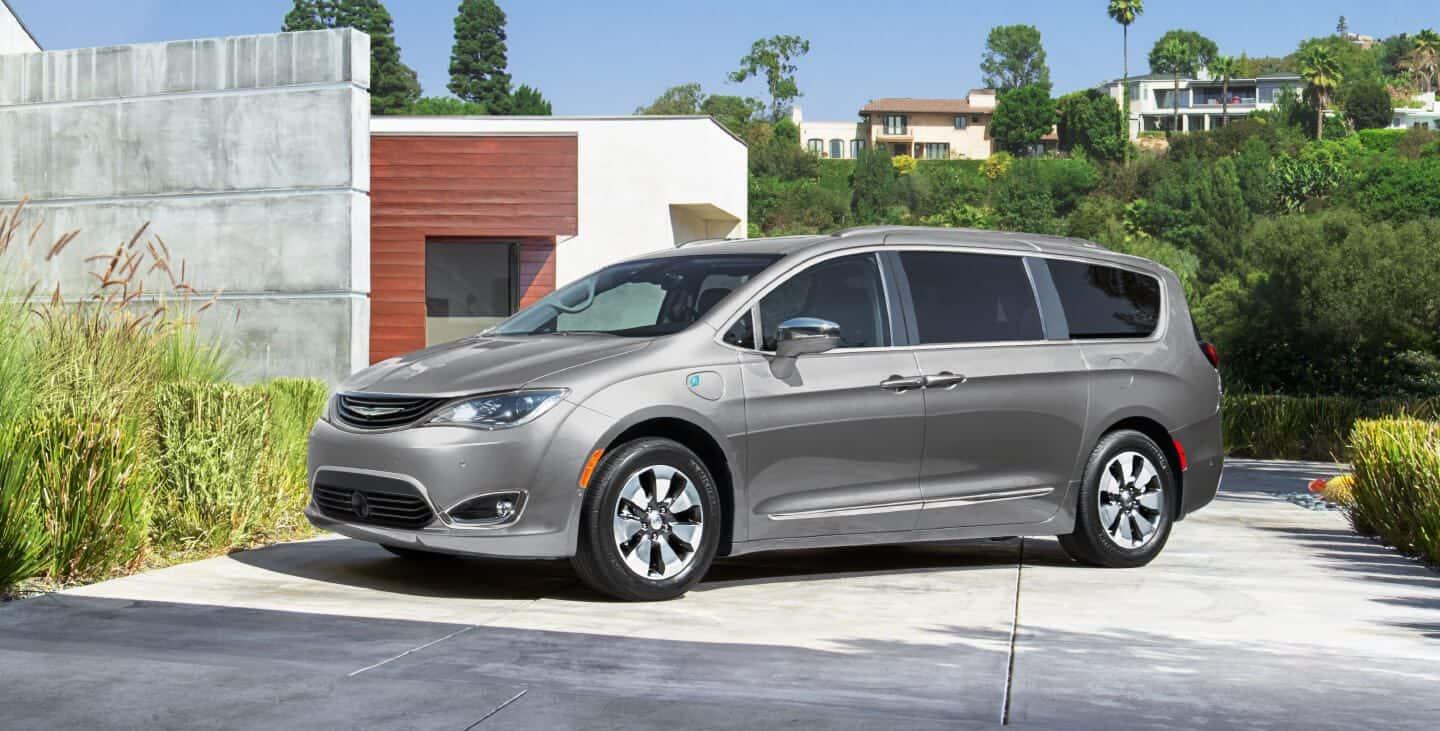 Cars.com named the 2019 Chrysler Pacifica as the family car of the year and I have to agree.
All minivans are designed with families in mind, but the 2019 Chrysler Pacifica goes beyond that. It is the most comfortable to sit in, has great entertainment options, and I will tell you that the stow-and-go seating/storage cannot be beaten.
The entertainment system is top notch with included apps and games to keep boredom at bay.
If snack time gets out of hand, the optional stow 'n vac vacuum can help with that.
The Pacifica is the first minivan to offer a hybrid version of any kind; the Pacifica plug-in hybrid delivers an EPA-estimated electric range of up to 32 miles before reverting to an impressive estimated 30 mpg combined.
Other small updates that make a big splash are improvements on the power-sliding doors, with multiple means of opening them. Along with the traditional buttons in the first row and on the van's B-pillar, there's a new button on the outside handle of each door and an optional foot-swipe-activated system that opens the sliding doors and the liftgate.
With a bag in one arm and a child in another, this feature comes in handy for parents (who have good balance).
Subaru Legacy
While the minivan rules the scene for family vehicles, don't discount a great sedan. The Subaru Legacy has added a touch of luxury and technology to the sedan with some upscale cabin materials and a touchscreen display.
Any vehicle that has heated/ventilated seats and a heated steering wheel gets bonus points from me, but when you add in some sophisticated style and lots of legroom… it's a winner in my book.
Safety is also a hallmark of the brand. The new Legacy includes cameras and sensors that alert you if it thinks you are not paying attention (Driver Focus) as well as a lane-centering function that works with their existing EyeSight safety system.
Genesis
I would be remiss if I didn't include the 2019 Genesis G70 on my list, considering cars.com gave it their pick for overall best of 2019.
The Genesis does pack a punch and I was completely blown away when I sat inside on the showroom floor. It is definitely on the luxury side of family vehicles, which makes it a little less attainable for most middle class families.
The Genesis boasts an impressive interior with full touchscreen controls, plus separate controls for your passengers in the back seat. There is also plenty of storage.
It is a luxury vehicle worth checking out if you are able to spend a little extra, which would be well worth it for the features you get.
Honorable Mention – Nissan Rogue Sport
I'm not a huge fan of crossovers or SUVs when it comes to family vehicles. Typically the mpg doesn't impress me and I find a good sedan can often give just as much in terms of comfort and spaciousness.
With the new Rogue Sport though, I am loving the included features like Apple CarPlay, Android Auto, navigation, satellite radio, USB, heated front seats, heated steering wheel, leather seats, voice recognition, and dual-zone climate control. The automatic emergency braking is a pretty sweet feature as well.
Decked out with the most cutting-edge Nissan Intelligent Mobility features, this crossover is ready to navigate life's daily adventures or break routine at a moment's notice. 
2019 Best Of Awards
If you want to see all of the top picks in every category, head to cars.com and check out their best of awards for 2019.
You'll see winners in the following categories:
Best Pickup Truck
Most Fun To Drive
Luxury Car of the Year
Family Car of the Year
and Best Car of 2019