I recently wrote about how the little things matter when it comes to all of the milestones your children will go through. I get so emotional as my youngest passes each new milestone because, well, he is my last baby and that thought just brings me to tears.
I shed tears of joy because I have four wonderful children whom I've been lucky enough to bring into this world and watch as they surpass every little milestone, but also tears of sadness as I realize that each new milestone is now the last. Our latest milestone with the baby is holding his own bottle, and soon after comes crawling, and walking and talking…… I'm gonna cry again.
My 2yr old, however, has been passing milestones of her own. She knows soooo many words, and has just finished potty training (except at night), and is just a little explorer. I am always in awe of her and her curiosity towards the world. Honestly, sometimes I wish I still held her quest for knowledge. I do love to learn new things, but with a 2yr old there is just so much excitement with every new discovery!
Beyond the bottle- when babies start drinking with cups
Allison has been using sippy cups for quite some time now, but it just reminds me of the fact that once again, my youngest is going to soon be using sippy cups too. He is almost done with the bottle stage (I nurse and supplement with a bottle). He's already started some solid foods, and I know that all that independence is lurking around the corner.
When babies start drinking with cups they aren't babies anymore, they are toddlers. And toddlers usually have preferences all their own. Like my daughter has to have the pink cup (although it used to be that blue was her favorite).
Which Cup to Choose?
When babies start drinking with cups it may not seem like a big deal, but I've learned that it does make a difference as to which cups you choose to use. We love the Avent Spout Cups because they have easy to grip handles, they are clear so you can see inside, and the silicone is just one piece that pops in and out with ease so you know that it is clean (nothing building up in hidden parts). The silicone spout is also angled to help develop a natural drinking position.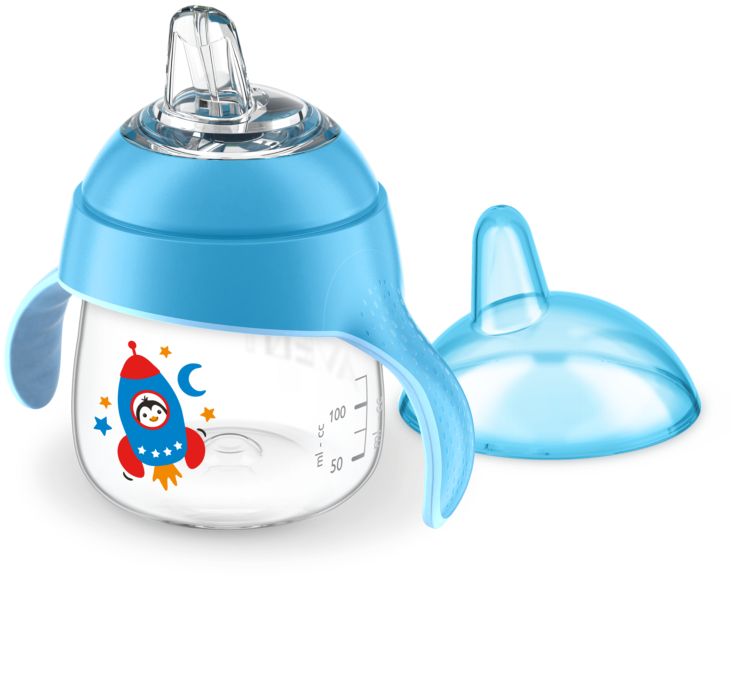 The Philips Avent Spout Cup is also compatible with the Natural and Classic bottles, which makes this even more amazing as you have loads of container options for the lid if you have been using the bottles before transitioning.
When did your babies start drinking with cups? Was it an easy transition?

Philips Avent Penguin Sippy Cup Giveaway
More little things matter:
Read my additional posts in this series, The Most Natural Way to Bottle Feed and The Best Pump for Breast Pumping, The Little Things Matter – Love is in the Details.
Disclosure: I am part of the PTPA Brand Ambassador Program with Philips Avent and I received Compensation as part of my affiliation with this group. The opinions on this blog post, The Little Things Matter, are my own.