The birth of your third child seems like a funny time to start using cloth diapers, but it has been over four years since we've had a baby and we wanted to do things different this time around. My husband was on board immediately, however, he left it up to me to find/research/buy all of the diapers we would be using on our little bundle.
So many choices!
I immediately set out to find the best diapers I could find as I wanted quality diapers that would last and work well. I quickly realized there were soooo many different brands of cloth diapers out there and it became a bit overwhelming trying to decide what to do. I actually never realized just how many different brands and types of diapers there were until I decided to find some for our baby. My two best resources for finding diapers that were of high quality, worked well, and were made to last was reading blog reviews and joining several cloth diapering Facebook groups.
If you are thinking of cloth diapering your child (whether a newbie or not) I highly recommend seeking out a cloth diapering Facebook group as the community aspect of those groups is amazing (if you join the right ones). There have been so many times I have asked questions and gotten tons of advice and recommendations. It is one of the best places I have found to seek answers and advice.
So what did I end up getting?
I pretty much ended up with a little of everything. I didn't want to just get AIOs (all in one), I wasn't sure how I would like pockets, and I didn't want to discount flats and prefolds just because they might be a little more work. So a girl that is new to all of this without many budget restrictions just gets a little of everything right? Well that is what I did anyway — at least until I could figure out what I really wanted.
Let me give you a quick little rundown on the different types of cloth diapers I went with. There are plenty of other options, but these are some of the most popular and seemed like they would work the best for us.
Flat diapers are large squares of single-layered fabric that can be folded in a variety of ways. The fabric is usually made of cotton. They are also the cheapest diapers you will find! You must use flats with a cover. I have found YouTube to be a great resource for learning the various ways you can fold flats.
Prefold diapers are rectangular pieces of cloth folded into three sections. The middle section is the most absorbent layer. Prefolds can be folded around a baby and fastened with pins or a snappi, or they can be folded in a trifold and laid inside a cover. You must always use a cover with prefolds regardless of how you fold them. Prefolds are supposed to be a really great diaper for the newborn stage.
 photo:
Amy Selleck
Pocket diapers
 are known as "modern" cloth diapers, and they are very daddy/babysitter-friendly. They require no cover and come in either a snap or aplix/velcro closure. They are called pocket diapers because each diaper comes with a pocket that must be stuffed with an absorbent insert. Most pocket diapers are lined in either fleece or suede cloth–which are stay-dry materials, meaning that your baby will still feel dry even when he/she is wet because the urine passes through the liner and absorbs into the insert that is inside the pocket. Inserts are either microfiber (which should never be placed next to a baby's body), cotton, bamboo or hemp.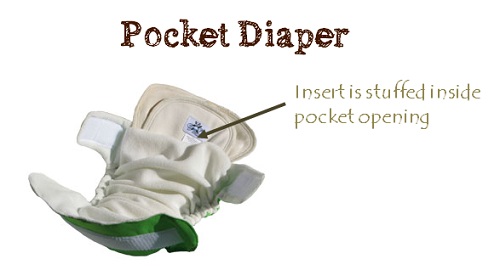 Image credit: thinkingaboutclothdiapers.com
All-in-Two cloth diapers (AI2) have a waterproof cloth diaper shell and an absorbent insert. Unlike a pocket diaper, the diaper insert goes directly against the baby's skin. When the cloth diaper becomes wet, you simply change out the insert instead of washing the entire cloth diaper. All In Two cloth diaper systems are quickly gaining a following among cloth diaper fans!
Combo AI2/Pocket function as both an All-In-Two (get more than one diaper change out of each cover between washes) and a Pocket.

All-in-one (AIO) diapers are a premium type and are usually pricier than the other types. The benefit is that there are absolutely no other steps. They require no covers or stuffing. They are all one piece–just like a disposable! This fact makes them especially popular with dads, grandparents and sitters!
Which diapers are my favorite for a newborn?
Since our baby is so little we haven't actually been using a lot of the diapers in our stash yet. The most used diapers have been our newborn all-in-ones.
We got a selection of newborn AIO diapers which only fit up to approx 12lbs. Since they fit for such a relatively short period of time these diapers may not be in everyone's budget, however, I absolutely love using them on our newborn as they fit so much better and are less bulky than some of the other diapers. We got three different brands of newborn diapers and they all worked wonderfully well, the only regret I have is that I didn't get more of these right away!
Of course with having only five newborn size diapers and one newborn cover (to use over prefolds) you are going to have to use other diapers sometime throughout the day. I typically like to use my newborn diapers at night since all but one of them has a stay-dry liner, and they fit much nicer so baby sleeps well in them. Other times of the day we rotate out our AI2/pocket combo diapers using the included liners as well as prefold inserts. We have used the flats as well but they are a little bulky on baby right now so I'm holding off a bit before we use them again — plus daddy has no clue how to fold them so I need to do another crash course with him.
Out of all the AI2/pocket diapers we have there is one that has stood out as my favorite so far. It is the Moraki AI2/pocket diaper with hemp/organic cotton inserts. I actually won a set of three inserts in a giveaway and asked if they would also send me a cover so I could test them out. They agreed and I received my diaper and inserts right before baby was born. We have been using the diaper on and off for about three weeks now and just love it.
One thing I really like about the Moraki diaper is that it fits much slimmer than any of the other diapers we use (other than the newborn diapers), and it can be used by stuffing the pocket or just laying the inserts inside the cover. Since one of the inserts we received was a newborn insert it keeps down the 'bulkiness' of the diaper while still providing great wetness protection. As baby grows we can use the larger inserts, and even double them up if needed. In addition, the leg gussets help prevent any leaks, plus this diaper is just plain cute!
Is cloth diapering easy?
Cloth diapering has actually been quite a bit easier than even I anticipated it would be and we have been very happy with our decision so far! Even using the flat diapers (which many people seem fearful of) has been pretty easy. If you are expecting I highly recommend at least looking into using cloth. You will not only save money versus buying disposables, but you get to find all sorts of cute diapers to put on your little bundle as well — trust me, it can be a bit addicting.   🙂
So tell us….
Do you use cloth diapers? What is your favorite?