This is a sponsored post written by me on behalf of Cricut. All opinions are 100% mine.
---
When I first heard about the new Cricut Joy I wasn't sure what to expect. I already have the Cricut Maker (and the Cricut Explore Air prior to that), but what could a smaller, more portable cutting machine do for me? Had I known how much I was going to fall in love with this little box of awesomeness I would not have even questioned getting it!

The Cricut Joy is the perfect companion to quickly and easily personalize anything with one cut and one color, in 15 minutes or less. It is fun, functional, and simple to use. Practical, everyday projects have never been more accessible or easier! If you already have a Maker or Air 2, Cricut Joy opens additional creative possibilities with unique features and is the perfect companion for quick, mat-free projects and long cuts.
What Is the Cricut Joy?
Cricut Joy is Cricut's smallest smart cutting machine ever! It fits in a cubby or looks great on a counter. Cricut Joy packs away easily and sets up instantly, making it super easy to move from room to room.
I love that I can simply pack my Joy into the carrying case and set it out of the way. It takes up almost no room and I can simply whip it out, plug it in wherever I am, and start cutting! Not having to transport a mat, combined with the smaller material size, makes the whole system compact and portable. No craft room required.
One of my favorite things about the Cricut Joy is that there is a full suite of brand-new materials that do not require a mat, meaning less to buy, fewer steps, and faster results.
With Smart Materials, Cricut Joy can cut an individual, continuous shape up to 4.5 inches wide and 4 feet long, and make repeated cuts (like stars, hearts, and confetti) up to 20 feet long! With a cutting mat, Cricut Joy can cut up to 4.25 inches x 6.25 inches, or 4.25 inches x 11.75 inches.
Five Little Ways To Get Your Home Organized With Cricut Joy
Organize Your Pantry. I'm in love with how tastefully frugal made her labels using smart vinyl. I have some of these clear glass jars already, but I'll need a few more to complete the set. I found more on Amazon here.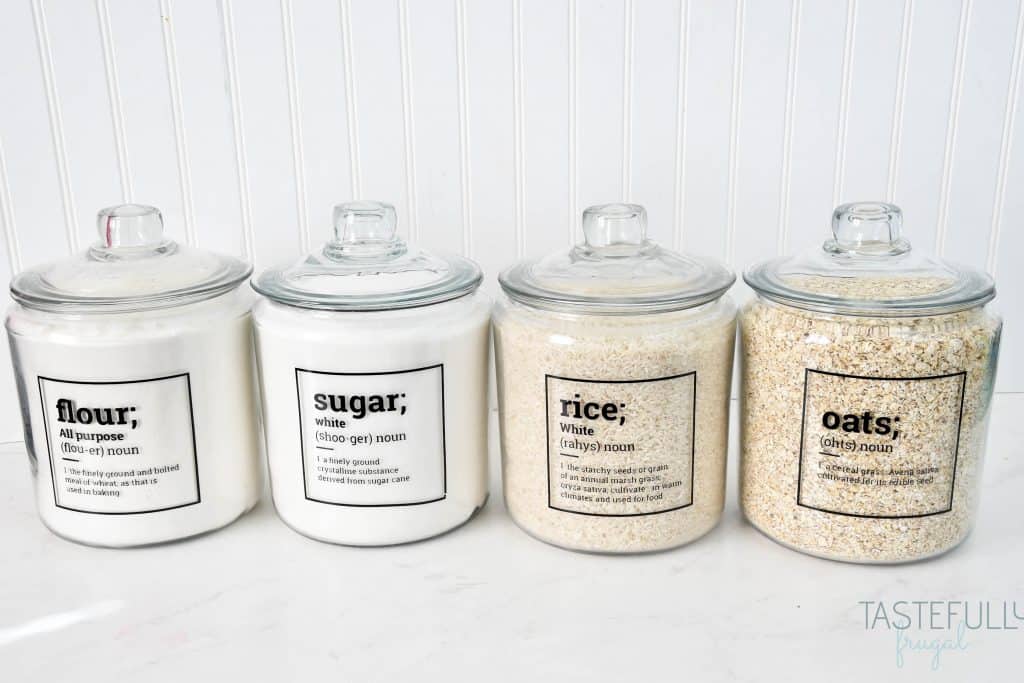 If you are in love with these labels too, you can find the full cartridge in Design Space by clicking on images, then searching for Pantry Definition Labels. That should bring up the full cartridge of 25 labels (see image below). If you don't have an Access subscription yet, grab one here. It is so worth it!
Organize Your Tech. Cheryl, from That's What Che Said has the perfect solution for all those cords and plugs lying all over your house. With four kids we have them scattered all over our house, so I love that she made some dedicated bins to house these things and keep everything organized.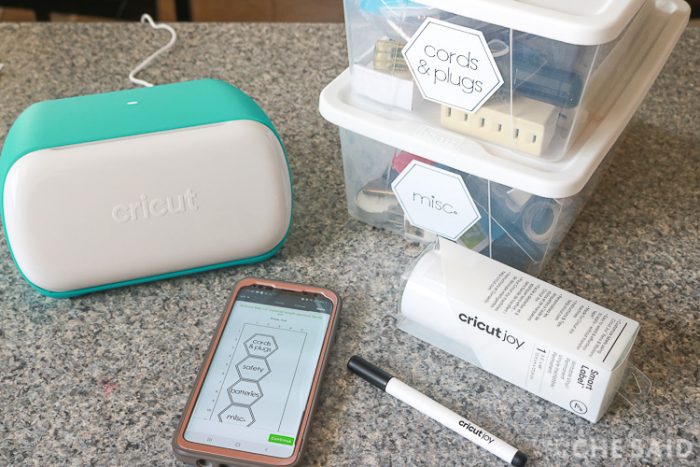 Organize Your Craft Room. Charynn, from Pinapple Paper Co. has me wanting to go out and buy all the bins! I really need to organize my craft room next and the Cricut Smart Labels paired with these see-through bins make it super simple and easy!
Organize Your Spice Cabinet. I so need to do this with the spices that we buy in bulk! Hip2Save shows us exactly how easy it is to create quick spice labels with the Cricut Joy. Find spice jars here.
Organize Your Homeschool. I'm not going to lie, my homeschooling situation has gotten a little out of control with all the books and materials I've acquired this year. Having so much stuff made it hard to find exactly what I was looking for, especially since nothing was labeled.
As you can see in the before images below, it could be pretty hard to find what we were looking for quickly.
With the Cricut Joy in hand, I whipped up some quick and easy labels to organize our school area and get everything a bit more organized. Now I don't have to hear "where are the pencils?", or "which binder is mine" every single day.
Binder labels make it easy to see which binder to grab for each subject.
And labels on our cart help the kids know exactly where everything is. Note: I used the purple Cricut Joy pen, which in hindsight isn't all that dark. We can read it just fine up close but if you are looking from far away you can't tell what it says.
---
How To Label And Organize Your Home With Your Cricut Joy
If you are still learning how to use your new machine I have a quick little tutorial to show you how easy it is to use the Smart Labels and get your home organized!
Step 1: Create your labels in Design Space. You can use the ones I already designed and change out the text to suit your needs or create your own.
Step 2: Send the cut file to your Cricut Joy to draw and cut. When you hit Make It you will be prompted to choose what type of mat you are using. If using the Smart Labels, simply choose without a mat.
You'll then be prompted to review, and the software knows exactly how long your material must be to complete the cut. In my case, I was making several labels so I needed material that was almost 40 inches long.
The great news is that the Smart Labels come in rolls that are 48 inches long!
Just keep following the prompts in Design Space to complete the cut. It will tell you when to change your pen colors, insert your blade, and unload.
Step 3: Once your organizing labels have been cut, you simply peel and stick! It's really that simple. You can have custom labels in less than 20 minutes from start to stick!
---
Grab A Cricut Joy
Purchase your own Cricut Joy and start making a little happiness in minutes!
You can learn more and purchase here: Shop Cricut Joy
If you know you are going to get one, don't forget to subscribe to Cricut Access first. You can save a ton of money on this Cricut Joy Bundle if you are an access member (which always includes an extra 10% off materials)!