I am so excited that the Cardiff Products Noodle Neck Giveaway is here! This exciting giveaway is to showcase innovative products that make travel and everyday life easier for kids and parents. There are some seriously amazing products here, and someone is going to be super happy to win all this stuff!
33 amazing brands have come together to give you a chance to win these awesome products!
ONE LUCKY WINNER will receive ALL PRIZES!
Everyone who enters the giveaway will receive something special after the giveaway as a thank you.
Giveaway will run from July 15th through July 31st.
Entering is easy and can be done below via our Rafflecopter.
Below the entry widget are all the prizes! Check them out! We also encourage you to check out our sponsors who have amazing blogs you should follow.
**EARN BONUS POINTS by submitting a noodle neck photo – unlock this way to enter by liking all the brands' Facebook pages**
You may be asking what "noodle neck" means…"Noodle neck" is a term to describe what kids look like when they fall asleep in the backseat of a vehicle. The infamous strange sleeping positions and head bob are well known to parents who drive cars. (With the Cardiff Booster Seat Headrest, your kids will never have to suffer from "noodle neck" again!)
REMEMBER….the more points you earn the better chance you have to win! The Rafflecopter entry widget is below.
Please share with friends and family and good luck!
Scroll below the entry form to get more info on our wonderful sponsors and prizes!
First, a BIG thanks to our Sponsors:
Prizes (and a BIG thanks to all brands!):
So what are the AMAZING prizes? Here are the Participating Brands (Giveaway Open to U.S. Residents Only):
Cardiff Booster Seat Headrest
Nothing is worse than a sore neck from sleeping uncomfortably in the back seat of a car. Avoid the dreaded head bob (or if multiple kids are in the back — the head bump) with the Cardiff Booster Seat Headrest. This revolutionary, new device provides support and comfort for a child asleep in a moving vehicle. Its thoughtful design can also accommodate users of all sizes. By attaching to your vehicle's existing headrest with a simple, universal mount, the Booster Seat Headrest provides lateral support to keep a child's head and body upright; comfortably aligned in the seat as they sleep. If the kids catch a good nap while in the car they will be well-rested and not cranky!
http://www.cardiffproducts.com
Wristy Buddy
Wristy Buddy is a one-piece teething wristband designed for babies that are teething that haven't yet developed the motor skills to hold traditional teething devices. Wristy Buddy was invented by a mother and teacher.
Bitybean
Bitybean's UltraCompact Carrier is a cleverly compact, baby carrier, designed and engineered with state of the art materials for ease and comfort for active families. Weighing just 8 ounces and smaller than a water bottle, the UltraCompact Carrier fits in any bag or purse. Allowing for convertible front and back carry for children 3 months or 8-40 pounds. It is available in 4 stylish colors and only $59.95.
Yummi Pouch
Yummi Pouch makes eco-friendly snack solutions that encourage healthy snacks for active kids. Yummi Pouch reusable food pouches are freezer safe, dishwasher safe, BPA-free, Phthalate-free, and can be filled with healthy blended snacks and easily taken on-the-go, no spoon required. Yummi Pouch cloth snack and sandwich bags are lined with a water resistant interior and decorated with colorful prints. They are perfect for crackers, chips, and sandwiches and also make great little storage bags for hair accessories and cosmetics.
Woombie Eco'Donut
The Woombie eco donut for babies or toddlers is essential for traveling with kids. Use it for daycare, trips to the mall, and trips to visit relatives. The super soft donut is convenient for diaper changes, back time, and sleeping. The sides zip up to create a bonus carry bag, which also keeps the donut clean. The ultra plush minky dot fabric is machine washable, recyclable, and eco-friendly.
Swimlids
Sun Protection Hat For an Active Lifestyle: Won't fall off on a boat or in the pool! Swimlids are an affordable, packable, quick drying hat that you can toss in your beach bag or on the boat and know you always have some added protection when needed. Swim. Splash. Play. Protect.
Go-Go Babyz
Go-Go Babyz® is a family oriented company, dedicated to developing innovative, high quality products to make life easier when you and your baby are "on the go".
As parents of young children we design each product for use with our own families, and all Go-Go Babyz® products are personally mom, dad and grandparent-tested. After 8 years of growth and success we are proud to still be family owned and operated.
Pacidoodle
Pacidoodle® was born out of necessity because a baby's pacifier is as personal as it gets! We are dedicated to turning ordinary pacifiers into Pacidoodles by permanently engraving baby's name, monogram or cute saying on the knob. Parents enjoy peace of mind knowing their baby's pacifier is clearly marked and the engraving will stand up to all the rigors of sterilization, will not rub off or fade. And the cute factor is over the top! People will stop right in their tracks to take a closer look and ask, "Where did you get that pacifier?" And then the light bulb goes off… "Why didn't I think of that?" We believe every paci baby deserves a Pacidoodle!
PullyPalz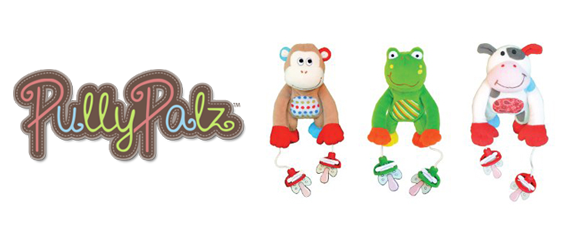 This innovative toy not only entertains baby, it keeps a pacifier in view and reach! With PullyPalz, dropped pacis even come back… Which is great for those times when parents need an 'extra hand'.
The toy uses something similar to a pulley system… When baby drops one, and it falls to the side, another is in view and reach. By grabbing the one in view and pulling toward mouth, the dropped paci comes back!
Mo Mo, Moo Moo, and Puddles are always ready to lend a hand…or hoof!
Bogg Bag
A family favorite for the past 5 years, the TOTE-ally awesome bogg bags are the only bags you will ever need – whether you're at the beach, gym, pool, school, work, sporting events, camping, boating, carrying groceries, diapers, gardening supplies, toys, books, computers, laundry and more! Three perfect sizes – you may need them all. Big hauls – the original bogg bag can handle it all! Quick trips – baby bogg bag makes it a zip! Dinner on the go – grab your favorite wine and your byo, bogg that is! All three bogg bags are made of durable EVA material with sturdy sides and flat treaded bottoms to keep your items where you want them – and not on the floor! Want to make your bogg unique? Customize and accessorize with decorative bogg bits and initials. Dress it up or down, with so many new options you'll look great carrying them wherever you go!
Rockin' Green
Rockin' Green is made for families that care about taking care of themselves and the Earth. We can all do our part for the environment while doing something good for ourselves. Rockin' Green products are made with a biodegradable plant-based and petroleum-free surfactant. They are septic and grey-water safe. They are never tested on animals.
Star Kids
Star Kids Products is an innovative children's product manufacturer that specializes in making fun and safe products for busy, traveling families. We specialize in safe and easy-to-clean products to make life easier when traveling with children whether via car on road trips, railroad or by plane.
Jinja Jewelry
Inspired by a love for travel, Jinja Jewelry is proud to offer a large selection of handmade jewelry from Bali including necklaces, pendants, bracelets, earrings and rings. Jinja Jewelry draws inspiration for its beautiful, high quality coral and silver jewelry from local and global trends in affordable jewelry and accessories. For your next vacation, pack your Jinja Jewelry pendant and earrings for a fun, tropical touch to your outfit. Jinja Jewelry helps support the talented people of Bali and provides their families with a safe and secure future.
Psi Bands
Psi Bands are STYLISH acupressure wrist bands for the relief of nausea due to morning sickness, motion sickness, chemotherapy and anesthesia. Psi Bands provide consumers with a drug-free option that does not interfere with other medications and does not cause dry mouth or drowsiness, which are common complaints about the drug options on the market. Psi Bands are uniquely fashionable (available in several fun colors) and functional: 1) waterproof – no more soggy wrist bands so you can wear them in the shower or snorkeling; 2) adjustable around the circumference of the wrist and at the acupressure point for personalized comfort and fit so they stay static on the acupressure point; and 3) reusable.
Zipadee-Zip
The Zipadee-Zip is a solution for transitioning baby from swaddling and is also the perfect sleep garment for babies and toddlers. It provides babies with the snug feeling of security while allowing for the freedom of pajamas. With Zipadee-Zip, babies are free to stand up, crawl, roll and move around safely. This versatile sleep garment has 7+ uses including: encourages sleep during travel, provides a germ-free environment on planes, trains and cars, prevents scratching and more. It works like magic to help babies fall asleep and stay asleep and is ideal for transitioning babies from swaddling or for babies who do not like to be swaddled.
Noblo
The mom invented Noblo Beach Umbrella Buddy has become a beach gear must have for parents who want to relax and enjoy a safe day at the beach without the fear of the beach umbrella flying away in a gust of wind injuring either their children or another beach goer. The Noblo acts as an anchor holding the beach umbrella in place.
Southern Yankee
Southern Yankee is a small one-woman business making baby clothes and gifts. She rescues vintage fabrics & textiles from resale shops, tag sales & flea markets. The vintage embroidered pillowcase is made into a child size apron, perfect for helping mom & dad in the kitchen or painted a work of art! Handmade in Wilton, CT.
San Diego Bebe
The mom-invented, eco-friendly nursing pillow that offers support, comfort, and discretion for mom and baby. For nearly 20 years we have been providing moms with the best Eco-Nursing pillows that allows a mother to comfortably nurse her baby in private while being the safest choice for the environment and safe for babies. Winner receives a $25 gift certificate to the Double Blessings online store.
Sphinx Personal Lounger
Castle & Bay is a new entrant to the luxury leisure products market. They design and create comfortable, multi-functional, versatile products using the Science of Ahhhh! The Sphinx Personal Lounger bridges the gap between inflatables and hard chairs by allowing you to read comfortably on your stomach, lounge on your backside, sit on it as a cushion or use in the water as a kick board. It has its own cup holder, cooler and a strap that holds your book pages open. Take it with you anywhere, use it on a chaise, in your bed, on your living room floor. It stows in a convenient mesh bag with a shoulder strap. Put it in your beach bag or your suitcase, it only weighs 2 lbs., takes 12 breaths to inflate and deflates to the size of a loaf of bread. The Seat-in-a-bag is a high quality microfiber cloth portable seat cover.
PunkinWrap
The PunkinWrap is your all-in-one baby solution! Originally designed with moms in mind, we have found it is becoming the new "go to" baby gift. A wrap created to do it all! Use our baby safe PunkinLinks to attach the wrap to your existing car seat or stroller – don't worry about which brands are compatible, no conversion kits necessary. Every PunkinWrap comes with the wrap, nursing strap, drawstring PunkinPouch, and 8 BPA-free PunkinLinks. Easy peasy!
TravelKiddy
TravelKiddy is on a mission to Amuse Kids Here, There and Everywhere! In keeping with that spirit, they offer a full array of travel toys, challenging games, and, of course, activity kits. Need the essentials for traveling with kids without power cords or passwords? This is the activity kit for you! Jam-packed with all the kids travel entertainment essentials – from the basics to the fun little things that transform an ordinary journey into an adventure. TravelKiddy Essentials is the foundation for all our activity kits. Not just for travel – this activity kit is sized for everyday use – restaurants, appointments, sibling activities or anywhere a little quiet entertainment is needed.
Jangala
Jangala Tribal Warriors: Living, Growing and Learning From The Heart is the first book of a series designed to increase children's capacity to handle their feelings and conflicts while building healthy and strong relationships. The concepts are based on positive psychology, Nurtured Heart(R) language and rational thinking skill building. Two of the younger characters, Nina and Gabby get entangled in a conflict that stemmed from teasing and we learn how the entire tribe stands together to make change for the better in their Jangala-a magical rainforest where peaceful, loving communities and tribes are the norm and expectation.
http://www.jangalatribalwarriors.com
ZizzyBee Bags
ZizzyBee Bags are handy, compact, reusable, washable storage bags convenient for every part of your life. The neat freak in your family will love that they help you store and organize just about anything! From diapers/wipes, make-up and sports gear, to even purse clutter these trendy bags makes organization easy and they're see-through so you can easily find what you're looking for.
Reduce single-use bag waste while keeping life's clutter cleaned up. With two eco-friendly bag sizes to choose from, ZizzyBee Bags are a perfect fit for storage and organizational needs.
Carseat Sidekick
The Carseat Sidekick makes getting your baby in and out of the carseat as easy as possible. It attaches to your carseat easily and holds the straps out of the way. You'll never have to wake a sleeping baby just to get him or her in the carseat ever again!
http://www.shortstackjack.com/
Baby Bump Bundle
Baby Bump Bundle offers pregnancy products curated in bundles for mom-to-be by trimester & gift boxes for newborn babies and nursing new moms at www.babybumpbundle.com! Plus you can now build your own bundles or buy individual high quality products too!
Baby Elephant Ears
Baby Elephant Ears is a multi-use headrest providing spinal/neck alignment and comfort for babies — and they're designed to look like adorable elephant ears! Baby Elephant Ears go wherever baby goes — stroller, swing, car seat, changing table, etc. The headrests are fully washable and require no attachments, straps or special skills and they're offered in diverse prints and organics. The superior design and durability of these headrests make them the perfect gift for parents!
Girlie Glue
Girlie Glue is an all natural accessory glue used to stick accessories to hair and skin. No clips, bands or even hair necessary, Girlie Glue will hold your accessories on all day! Perfect for newborns, toddlers, as well as foe stick on earrings, mustaches, and more!
Zippyz by Little Trendyz
Zippyz are footed pajamas with a patented design that makes diaper changes easier while keeping babies covered and warm during the process. Zippyz are made of a blend of organic and cotton which is extremely soft and eco-friendly! The adorable baby pajamas are made of a 50/50 blend of luxuriously soft organic cotton and bamboo. They feature a mitten cuff with fold over detail to keep baby from scratching his face.
Poppy Drops
Poppy Drops was founded by a mom looking for a safe & long-lasting alternative to pierced ears for her daughter. Our first product was our veggie-based, temporary tattoo earrings and our line has expanded to include Tattoo Nail Art, Perfume Sticks & Gift Sets. All products are Made in the USA and are designed to be natural and fun accessory/beauty product alternatives for kids & families.
Babee Talk
Babee Talk offers organic and eco-friendly baby bedding and plush toys with healthy, safety and style in mind. Drool-friendly and chew-friendly, our products help to ensure a healthy start in life for your baby.
Babies love the cushy, coziness of our Eco-Buds® Take-Along Pals. Earth friendly, parent approved. These portable little playmates attach to strollers, carseats, high chairs and more quickly and easily. No Hassle. No Fuss. And he promises never to turn into a butterfly. All of our Eco-Buds® Take-Along Pals are made using organic cotton fabric, inside & out. Delightfully entrancing colors are achieved using only low-impact dyes with absolutely no heavy metals. Soothing sounds engage babies and hold their attention. These little companions are hypoallergenic, non-toxic and phthalate-free.
Buttons Diapers
Buttons cloth diapers were born at home. As a husband and wife team, we designed our diapers to be easy to use and affordable for everyone – the way it should be. We believe in keeping our lives simple, even when it comes to diapering. The Buttons cloth diaper package comes with a one-size cloth diaper cover (fits babies 9-35 lbs), plus 3 snap-in daytime diaper inserts.
Baby Jack Blankets
Baby Jack Blankets is a mom invented brand that was created when son Jack was playing with the tags on his toys. As an added safety feature ribbons are sewn shut into Tabs to prevent tiny fingers from getting intertwined. Ribbons are a great form of sensory play and entertainment.
Baby J
This perfect baby play mat was designed for the germaphobe mom who always wants a clean area for their little one. The baby play mat is crafted with vibrant and colorful, 100% cotton, designer fabric and super plush minky. It's comfy and cozy for any new baby, and great for tummy time.
This Baby J play mat is soft enough for baby to lay his face on, and the minky dots give him something to poke at. Not to mention, the modern and chic fabrics will make any mom look and feel fashionable the second they pull it out of the diaper bag. This is a definite must have for a new mom and baby.
Giveaway Sponsors:

Macaroni Kid Westport-Greenwich
Macaroni Kid and its family of Publisher Moms are dedicated to delivering the scoop on all the family-friendly events and activities happening in their communities each week. Check out Macaroni Kid's list of communities and sign up to receive your free weekly newsletter.
Middlesex Publications' award-winning N.J. Suburban Parent Magazine was the first newspaper of its kind in New Jersey. It offers highlights of MPI's Family Fun Calendar of Events, thus providing parents with a valuable guide to fun and educational activities in the tri-state area each month. Suburban Parent, as well as the newer Suburban Family, also features articles and columns which cover parenting topics.These magazines have become the Central Jerseyan's source for information on family health, child care, education, summer camps, after-school activities, parenting, home improvements and much more.
The Mommy Bunch is a lifestyle blog that features a collection of family friendly content. You will often find articles on a wide variety of topics depending on what we are discussing or living at that time in our lives; some examples include parenting topics, recipes, crafts, technology, and so much more! We also focus on quality and in depth reviews for products that can benefit a family friendly home. We love offering family friendly giveaways and sharing everything about living in healthy and happy home.
I run a family based blog where I hold reviews and giveaways. I love reviewing things such as food, beauty products, childrens products, home decor and much more.
http://mimilovesall8.blogspot.com
I strive to bring you the very best Canadian contests, deals, freebies, coupons, and exclusive blog giveaways that are available on the world wide web every single day! I strongly believe in being frugal, and stretching your hard-earned dollars to the max! Sit back and enjoy saving!
Welcome to Sweetly Made (Just for you). The three of us are here to share organizational tips, business reviews, giveaways, DIY craft ideas, fun activities for kids, travel ideas, personalized Christmas stockings and more.
http://emileeschristmasjoy.blogspot.com/
We are two mommies helping our readers save time, money, and a little bit of sanity. We post product reviews, recipes, cleaning tips, deals, and giveaways.
http://moneysavingmommiesx2.blogspot.com
Mommy Knows What's Best is a family and parenting site that features parenting advice and tips along with reviews and giveaways. By sharing what works best for my family, I hope to help make your parenting life a breeze!
http://www.mommyknowswhatsbest.com
I am a busy lady who takes on too many projects while trying to manage the chaos I call my life. I am a work at home mom and wife who is a logo designer and branding consultant. We have recently started our journey of home schooling. What a ride we are on, but at least the hot pink carpet has been rolled out for us, the Carolina moon is shining bright, and my crown is tilted just right!
http://thepalmettoqueen.blogspot.com
Savory Savings is a lifestyle blog about saving money when it comes to organic and green living, gluten-free eating, fashion and so much more!
My name is Kathy and I'm the owner of Kathy's Savings. I love to share deals, coupons, reviews, giveaways, recipes and my traveling experiences.
I am a mom blogger with a lifestyle blog. My regular posts consists of product reviews, giveaways, entertainment, recipes, crafts and travel.
http://www.mommyenterprises.com/moms-blog
Brittleby's Corner is a blog devoted to organic living. My name is Brittney Minor and I am a mom to two kids and a wife to a UCSB Doctorate student. I substitute teach elementary-high school part time. I love blogging about life as well as natural and organic products that my family loves. My blog features reviews and giveaways and I enjoy sharing about products and companies that promote an eco-friendly lifestyle. I especially love when companies use sustainable resources and make their products in the USA. My goal is to show people that life can be simple and organic.
A multi-review blog that supports family friendly products and hosts awesome giveaways!
Review/Giveaways
http://newagemama.blogspot.com
My blog is a lifestyle blog with a lil' bit of everything!
My blog is a well rounded site with posts about health, pets, family, food and recipes in addition to reviews and giveaways….A little bit of everything!
http://www.missirosesviews.com
PegCityLovely is a fast growing lifestyle blog written by an energetic working mom of a toddler, tween and teen! Tons of fun engaging stories about life in the Peg including event coverage, product reviews and giveaways.
Reviews, giveaways and a little bit of everything!
Couponwahm.com is committed to helping YOU save more, spend less and earn an income online.
The Cool Word Club (CWC) is an online gathering place for some of the coolest and smartest kids in the country!
Social Media 22 is a trendy PR and Internet Marketing boutique located in Bridgeport, CT.
This promotion is in no way sponsored, endorsed or administered by, or associated with, Facebook. We hereby release Facebook of any liability. Winner(s) will be contacted by email 48 hours after the giveaway ends. If you have any additional questions – feel free to send us an email: pr@cardiffproducts.com. Cardiff Products is not liable for any of the products given away.
Once the giveaway is over, the brands shown above may send you one email with an exclusive offer as a thank you for entering.