I love using my oils. I've always been an advocate for keeping things simple and healthy while still being effective. If you are looking for Essential Oil Recipes but often get tripped up on where to start, I have just the thing for you!
I am an avid DIYer, so when it comes to DIY essential oil recipes, I'm right there with you wanting to make all the things. The problem is, figuring out which oil to use for what purpose and how to bring it all together into an effective recipe can be a daunting task, if not downright intimidating.
So when I heard from Simply Earth I was immediately intrigued. They asked me to try out their monthly essential oil recipe box to see what I thought, and I'm so glad I did!
With Simply Earth, you can enjoy making incredible homemade products with/for your family and friends without all the work of searching for which ingredients you need and how to combine them. You can simply take charge and be in control of your natural home.
Want my Simply Earth discount? Click here to jump straight to the details!
How It Works
How the Simply Earth essential oil recipes box works is that their team designs the perfect recipes every month, delivers them to your door along with all the instructions, ingredients, and equipment you need (minus a few things you may have on hand), and you get to have fun making natural cleaning products, beauty products, and more!
The biggest thing I love about the Simply Earth essential oil recipe boxes is that they are high quality products that are affordable. You can read about their Simply Pure Promise here.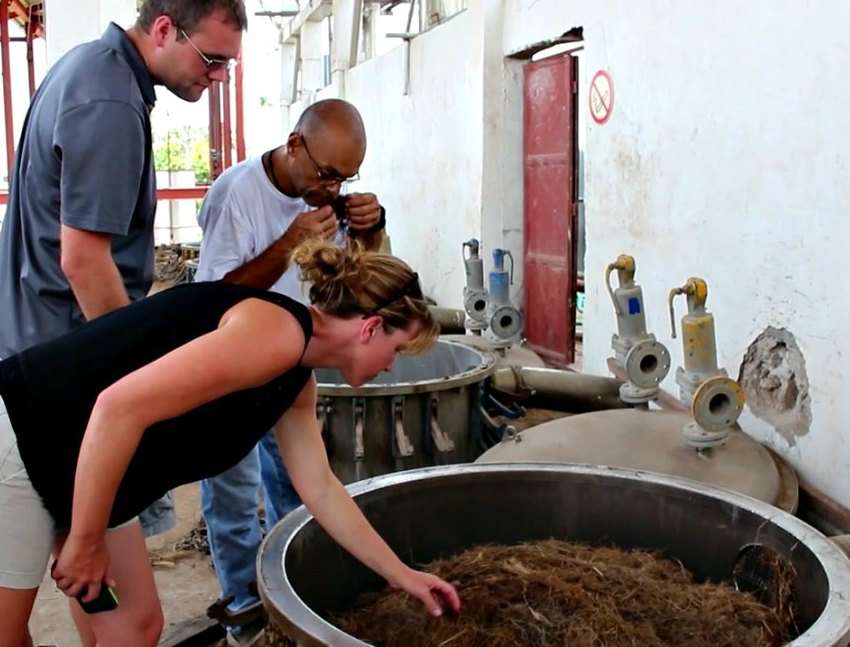 I was super excited when my box came and I did an unboxing live on my Facebook page. Check it out here:
Even though I have a lot of pure oils, I don't have many essential oil blend recipes and I had never heard of the B.O. Be Gone blend that comes in the kit. I pronounced it BO (like bough) be gone… I totally realized after unboxing that it was B (like bee), O (like oh) because it removes body odor, hence B.O. Be Gone!
Rollerball Essential Oil Recipe: Laundry Stain Remover
The first recipe I tried from my most recent box was the laundry stain remover roll on. If you are looking for rollerball essential oil recipes, this is a great one!
For this recipe, everything you need is included in your monthly box or the Bonus Box that you get with your first order (more on that later). Just grab your lemon essential oil (10 drops), tea tree essential oil (10 drops), and the castile soap and fill the roll-on-bottle.
You will want to shake well before each use, and then simply roll onto any stains. Allow to sit for 5-10 minutes before washing.
See this video to watch the step-by-step instructions:
Essential Oil Blend Recipes: Foaming Hand Soap
The next recipe I tried was the foaming hand soap. I was so excited that this recipe was included in the box because we go through hand soap like nobody's business in our house!
Again, everything you need is included, but this time you get to use an essential oil blend called B.O. Be Gone along with some nutmeg essential oil.
The recipe is 1 cup distilled water, 2 Tbsp liquid castile soap, 1 tsp fractionated coconut oil, 5 drops B.O. Be Gone essential oil blend, 5 drops nutmeg essential oil, and an 8 oz soap dispenser (grab an old one once empty).
To make, add the essential oils to the fractioned coconut oil in a small bowl. Stir to combine. Then you add the water to a clean soap dispenser, add the castile soap, and finally the oil mixture.
Shake, then dispense onto hand and wash as normal.
This recipe was a hit in my house. Here is a quick video of me making it so you can see step by step what to do.
Simply Earth Discount
If you are interested in essential oil recipes and want to make it easy on yourself you can grab the Simply Earth recipe box here.
Use code: JESICAFREE to get a free Bonus Box (worth $40) with your first order and $20 off your next order!
This post sponsored by Simply Earth. Any opinions are my own. Post contains affiliate links designed to provide a means for sites to earn advertising fees.