When I think of Valentine's Day, I think of chocolate, flowers, and Jewelry. I rarely wear jewelry, so I would have to say chocolate and flowers would be my choices (chocolate always wins out in my book!).
As far as flowers go, I prefer daffodils since they are my favorite, yet I don't seem to see them given as gifts very often.  I guess I will just have to grow my own!
I also like carnations and tulips, but I have about a billion tulips in my garden each year so receiving those as a gift wouldn't be quite as special.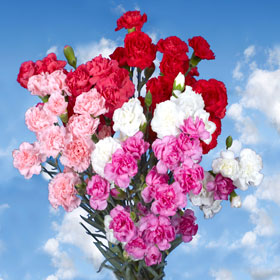 I did find some great carnation bouquets on GlobalRose.com, and I just might get myself some to brighten up our home one of these days.
If you are looking for roses, they do have those too!  🙂
Do you give Valentine's Day gifts?
If you give a gift, who do you get gifts for?  Your significant other, your child's teacher, friends, family?
What types of gifts do you give and/or get?  Do you give/get flowers, chocolate, jewelry, etc.?
In our home, my husband and I sometimes get gifts for one another, but a lot of the time it is just a "Happy Valentine's Day" said to one another, or a card, or something small. We don't go all out.  This is fine with me because I don't have to worry about trying to get something extravagant for him then either.  Flowers we usually reserve for mother's day, or birthdays.
If you don't celebrate, or do so minimally like we do, what do you do instead– if anything?
Are gifts expected for Valentine's Day?
As I mentioned above, my husband and I are comfortable enough in our relationship that we do not expect each other to get gifts, however, I know this may not be the norm.  Do you think Valentine's Day is an over commercialized holiday with people just expecting too much, or do you feel it is a day for showing someone how much you love them?
What are your thoughts?