Ready for adventure? Take a spectacular subterranean journey through Wisconsin's many cave systems. Caving can be an activity the whole family will enjoy, and there are plenty of caves in Wisconsin to explore! Learn about local geology and see the breathtaking formations that have resulted over millions of years.
Take Your Exploration Subterranean with These Five Public Access Caves in Wisconsin
With flashlight wild tours, bats, amazing geology, and touring Wisconsin's longest cave, what's not to love?! Crystal Cave is open late March through October and accommodates groups, parties, special events, and more!
---
Wisconsin's largest onyx cave provides guided tours Memorial Day until Labor Day. You can also get a campsite, go canoeing, hiking, fishing, geocaching, and more! 
---
Probably Wisconsin's most popular cave destination, Cave of the Mounds is a quick drive from Madison. Tours pass stunning crystal formations on paved, lighted walkways. Tours take place every day of the year. 
While Cave of the Mounds is easily accessible from many places in and around Wisconsin, if you are looking for a lengthy cave experience, this may not be the best choice. My family and I were a little disappointed in how short the tour was compared to others we have been on. It's great for your first time checking out a cave, but if you've been in other caves you may find yourself disappointed with this one.
---
A fun time is to be had crawling and traversing the many passages in the caves at Ledge View. Yes, you can crawl, and probably get a little dirty. 🙂
---
Those looking to see the caves typically will wait until winter and use a natural ice bridge to get there. You can go in the summer by boat, however, if conditions on the water are rough you may not be able to go. It's best to call ahead and check the conditions no matter the time of the year.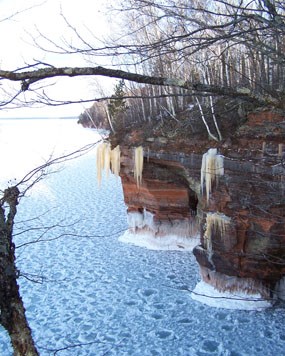 The Apostle Islands sea caves are one of the few places on our list that we have yet to visit. It is on the top of our to-do list for caves in Wisconsin to visit and will be planning a trip there next winter!
---
Have you ever been to one of these caves in Wisconsin?
Let us know by leaving a comment on our Facebook page!
---
Thanks to Kayser Chrysler Center of Watertown, WI for sponsoring this fun post!