"There's never been anything quite like the All-New Jeep® Gladiator, engineered from the ground up to be a true pickup truck. Backed by legendary Jeep Brand 4×4 capability, Gladiator is ready to carry you and your gear around the corner or to the far corners of the earth." ~ Jeep.com
Jeep People
When my husband and I head on vacation we'll choose a Jeep as our rental so we can have a little fun, but we don't get to experience the joy of being a Jeep owner on a day-to-day basis. We have a family hauler (our van), a hybrid car for a commuter, and a truck that allows us to do stuff around the farm. There hasn't been room to add in a Jeep 'just for fun'.
Fun and Function
What if, just what if my Jeep could be both fun and functional?
With the Gladiator, the standard 4-door Wrangler base is elongated out to make room for the 5ft box. This creates a stunning blend of iconic Jeep lines while adding pure functionality that truck-lovers crave and need.
The Gladiator comes with all of the Jeep features that give you that iconic experience: removable tops and doors, front camera (that you can clean from inside), and off-roading capabilities. But it also comes with all of the truck features you can't do without:
upgraded tires for towing,
wider grille vents for increased towing performance,
a rugged and spacious truck bed (that includes a 115v outlet),
a fantastic towing capacity (up to 7,650 pounds),
tire pressure monitoring system,
integrated trailer brake and sway control.
---
The truck box boasts some amazing features of its own:
90-95% of motorcycles will fit in the 5-foot box.
The tailgate has the same step-load as the tailgate on the Ram 1500 (1,800 pounds).
With the tailgate in the secondary position (45° angle), you can still fit 19 sheets of drywall or plywood.
You can fit bigger toys that stay put with the four built-in tie-down loops.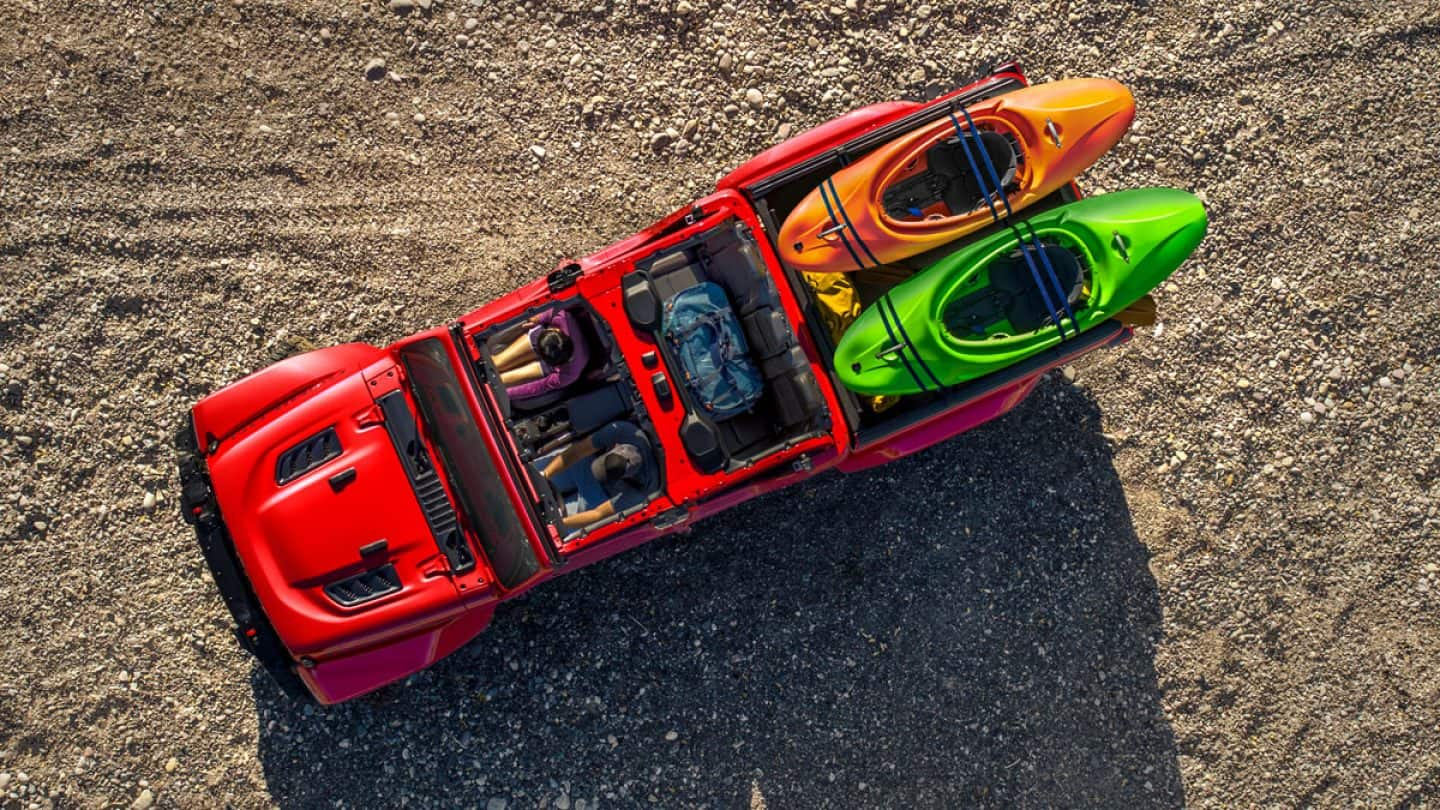 With all the features this vehicle packs in, I can't think of a reason not to get one!
---
Check out Palmer Dodge Chrysler Jeep Ram to find a model that's right for you.
Related: Jeep Wrangler – Discover New Adventures
Joining The Jeep World
Once you decide a Jeep is for you, there are so many fun things you can do with it! Start out with Five Things To Do With Your Jeep, then check out these Five Bucket List Items For Jeep Lovers.
There are also so many places throughout the US to take your Jeep off-road. If you are looking to expand your off-road palette to include more destinations, check out the these Bucket List Off-Road Destinations to Take Your Jeep!
Even more Jeep off-roading fun: