---
My kids love the I Can Read! book club books because they are so much fun to read, and because they are books that my budding readers can actually read themselves. I love these books for some of the same reasons. They are fun to read, the stories are entertaining, and the characters are those we know and love!
Build Your Own I Can Read! Book Library
Now building your collection has never been easier. With the special offer from the I Can Read! book club you get 2 FREE books when you sign up. Give your child the gift of reading, only pay $1.00 S/H to get started!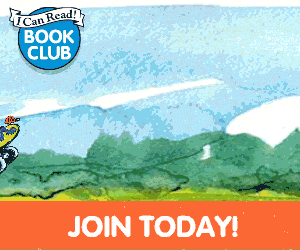 Why Join the I Can Read! Book Club?
Recapture your youth by embracing the same classic favorites you enjoyed as a child.
Connect with your family. Create lasting memories by cuddling up with your children and sharing story-time. Encourage children to participate and take turns reading with Mom and Dad.
Create a relaxing routine. Use your favorite stories to prepare kids for bedtime or naptime, or just to provide some downtime for relaxing and unwinding.
Build a high-quality library. For an educational, cost-effective learning tool that's also highly entertaining, you can't beat the power of books.
Foster creativity and imagination. Widely recognized as the premier line of books for beginning readers, and with hundreds of titles conveniently organized into color-coded levels, I Can Read! books contain some of the most beloved characters in the history of children's literature that can inspire imaginative thinking.
Create your own zany days to go along with the books. Enjoy bubbles with Duck Duck Dinosaur, or make biscuits with Biscuit. Have the children draw their favorite character or craft them in clay to build motor skills.
I actually built part of my book collection by utilizing this service and I'm so glad I did. I love reading stories that I also enjoyed as a child, and my kids are happy to pick out their favorites at bedtime each night.
---
What is your favorite book to read with your kids?
---