This post is sponsored. All opinions are my own. At The Mommy Bunch, we recommend items we hope you'll enjoy and may earn a commission on affiliate links included throughout this post.  
I love using living books to teach. Especially when my kids and I are learning about history. Living books really make the past come alive and make you feel more connected to the story and the time periods. So when I was introduced to Kregel Publications' Goldtown Beginnings Series, including Jem Strikes Gold and Jem's Frog Fiasco, I knew that I'd have to give them a read with my kids.
"Living books are usually written by one person who has a passion for the subject and writes in conversational or narrative style. The books pull you into the subject and involve your emotions, so it's easy to remember the events and facts. Living books make the subject "come alive.""

~Simply Charlotte Mason
The two books that start the series are Jem Strikes Gold and Jem's Frog Fiasco. Both books are geared toward younger readers and can be read independently or as a family read-aloud. They are chapter books, so depending on your child's reading level they may be appropriate for ages 5-8, however, children younger or older may still enjoy the stories.
"Welcome to Goldtown, California, in 1859 – a motley collection of canvas tents and pioneer folks all trying to make a living during the gold rush.

In a new six-book series by the ever-popular Susan K. Marlow, Goldtown Beginnings looks into the early years of Jem Coulter, hero of the Goldtown Adventures series. Full of characters young readers–especially boys–can relate to, this new series will capture imaginations and teach kids history in a fun, exciting way."

~Kregel Publications
My two burgeoning readers are not quite ready to read on their own so we have been reading the books together, then discussing each section as we read. My youngest just listens to the story, but my 5yr old (who didn't want her picture taken) participates in the discussions with me.
There are also free activity guides that you can download to supplement the reading and really bring the pioneer days to life!
---
What I really like about both books is that there is a section right in the front that introduces new vocabulary words. You can choose how you'd like to use this with your own reader, but we discussed each set of words before starting to read the books. I tried to make it fun by acting out some of the words, like hoarse, peddler, pester, tuckered out, fiasco, etc.
I also like that at the end of each book there is a section titled, A Peek Into The Past. This section included a brief history of a specific topic that really happened in the 1800s.
The illustrations in the book are great as well. There are not illustrations on every page, but I feel for a book of this size that is okay. This is a chapter book designed for young readers so a few really good illustrations keeps the kids intrigued and interested in what is happening in the story.
Optional Language Arts Educational Units
While my kids aren't really ready for the activity guides since they can't read on their own yet, you can still use the guides together as a family if you also have young children. For example, you could use some of the questions as starters to guide some narration from your children.
And the free coloring pages are perfect for any age!
You can also purchase lap books to further supplement the educational journey back in time. Find out more info and see sample pages at goldtownadventures.com.
About Jem Strikes Gold
In Jem Strikes gold, young Jem and his family are rying to make a go of it in Goldtown by panning for gold and baking pies. Jem and his little sister, Ellie, do everything they can to help out. Many families in the area are trying to get rich.

One family is already rich, though. The Sterling family, which includes Will Sterling, who picks on Jem every time he runs errands for Mama. When Will's antics end up ruining the pies, Jem's had enough. No pies mean no money for the whole family!
Will Jem's saving grace be a new dog? Jem might have an answer to the bully problem. The brave pup can protect them – if only Jem can convince his parents to keep a new puppy.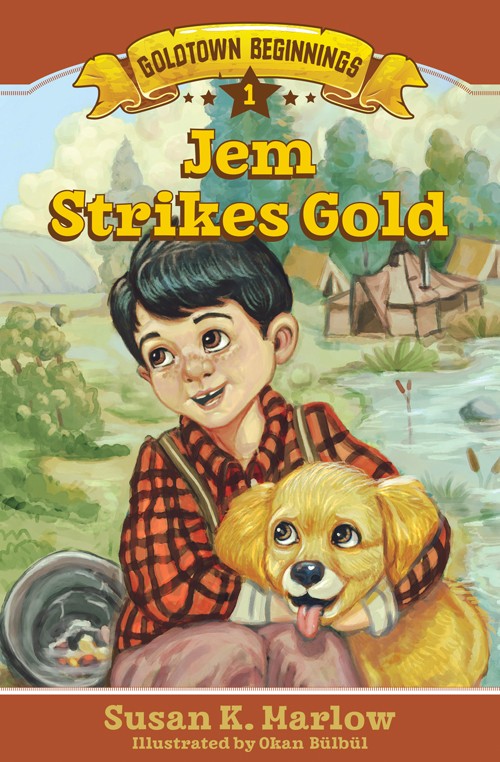 About Jem's Frog Fiasco
Jem really wants to provide for his new dog, Gold Nugget. Since panning for gold hasn't paid off, he tries his luck at a job at the cafe. Mr. Sims, the café owner, sends him out to catch bullfrogs for the menu.
There's just one big problem–no Jem's sister Ellie has disappeared! No matter where they look, there's no sign of her. And Jem knows that it's all his fault for yelling at her. In Jem's Frog Fiasco, will Jem find Ellie before it's too late?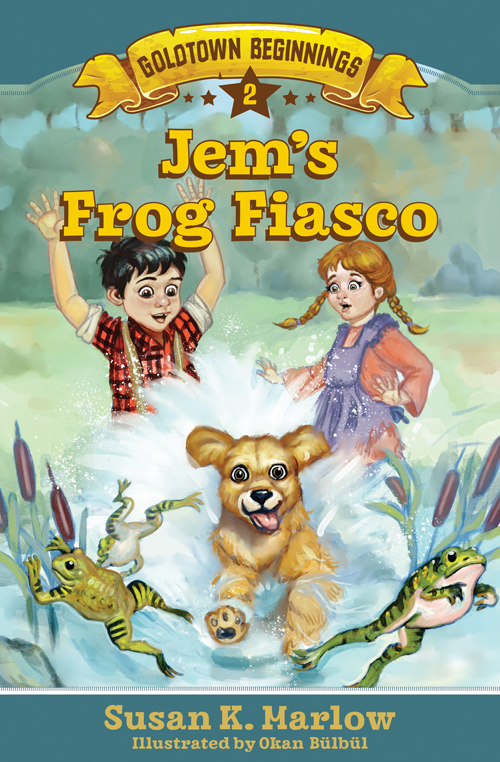 Do I Recommend The Goldtown Beginnings Series?
The short answer is, Yes! As mentioned above, there are many reasons I like these books, and although they were a little advanced for my readers right now, I think we will come back to them when they are a bit older and can read for themselves. We'll do all the activities at that time and really take in the educational experience that these living books have to offer!
Plus I'm looking forward to reading the other books in the series once they become available.
Overall we really enjoyed reading the stories as our family read-aloud, and both books were entertaining, engaging, and even taught us a little about gold mining — which my kids are dying to try out for themselves now too!
---
Be sure to check out all the other reviews from the Homeschool Review Crew. Click the banner below or head here.
Visit https://goldtownadventures.com/ for free language arts educational units to accompany the entire series, including lap books, activity guides, and more.