The Nutcracker has been a Christmas staple for as long as I can remember, and what would a Nutcracker movie be without a little ballet. Enter Misty Copeland. Misty plays The Ballerina in Disney's The Nutcracker and The Four Realms and does a fantastic job.
Here's what she shared with us about working on this movie, and ballet in general.
Misty Copeland Interview
Joining Disney's Nutcracker
Misty said she was a bit shocked that Disney reached out to her.
She said, "They were just really organic about letting me kind of take the lead. They're like, 'we don't know Ballet, this isn't our world', so they allowed me to choose a choreographer. I selected Liam Scarlet, a choreographer in residence for the Royal Ballet in London and I had worked with him before. He was young and that's not common in the ballet world."
"When they brought the idea to me, it was based on the Nutcracker book. It wasn't based on the Nutcracker ballet, so there was no ballet in this version of the story. So they were like, 'you can't do the Nutcracker and not have Ballet in it' so they kind of created this character for me. The Ballerina Princess just a way to have ballet in it. I'm kind of the storyteller, so it's a performance to share the story of the Four Realms and tell it to Clara. It's awesome."
Misty's Advice for Young People
"I think it's important to first just to have belief in yourself – true belief that you don't have to look like the person next to you. What you see on Instagram is not necessarily beauty just because that's what you pushed in your face. I think being an individual is so much more beautiful. I just try and tell young people to own that and be confident.
About THE NUTCRACKER AND THE FOUR REALMS:
All Clara (Mackenzie Foy) wants is a key – a one-of-a-kind key that will unlock a box that holds a priceless gift. A golden thread, presented to her at godfather Drosselmeyer's (Morgan Freeman) annual holiday party, leads her to the coveted key—which promptly disappears into a strange and mysterious parallel world. It's there that Clara encounters a soldier named Phillip (Jayden Fowora-Knight), a gang of mice and the regents who preside over three Realms: Land of Snowflakes, Land of Flowers and Land of Sweets.
Clara and Phillip must brave the ominous Fourth Realm, home to the tyrant Mother Ginger (Helen Mirren), to retrieve Clara's key and hopefully return harmony to the unstable world. Starring Keira Knightley as the Sugar Plum Fairy, Disney's new holiday feature film "The Nutcracker and the Four Realms" is directed by Lasse Hallström and Joe Johnston, and inspired by E.T.A. Hoffmann's classic tale.
Meeting Misty Copeland was such a fun experience, and she definitely has a lot to offer the world of dance, and is a great role model for young girls!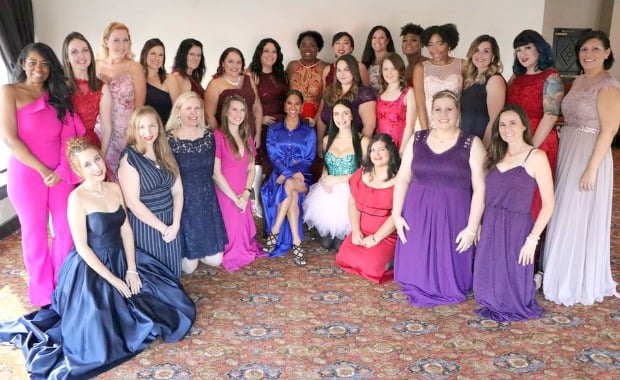 The Nutcracker and The Four Realms is in theaters now – be sure to see it today!