When you start thinking about your little girl growing up and how her body is changing it can bring up lots of emotions, both for you and for her.  It may be a good idea to think back to when you were a young girl to remember what it felt like the first time you got your period.  Did you feel you were prepared for that moment?  Did your mother/father discuss it ahead of time with you or was it a big surprise?  Was your experience one that you would want your daughter to go through, or do you think there are things you can do to help improve upon the experience you had?
When you start thinking about having a conversation with your daughter about her period there are several things you might be thinking.  How do you approach the subject without overwhelming her and still keep an open dialogue?  What are some of the important topics that you should talk about?  How do you approach this awkward subject without intimidating or frightening your daughter with the information?
—————————————————————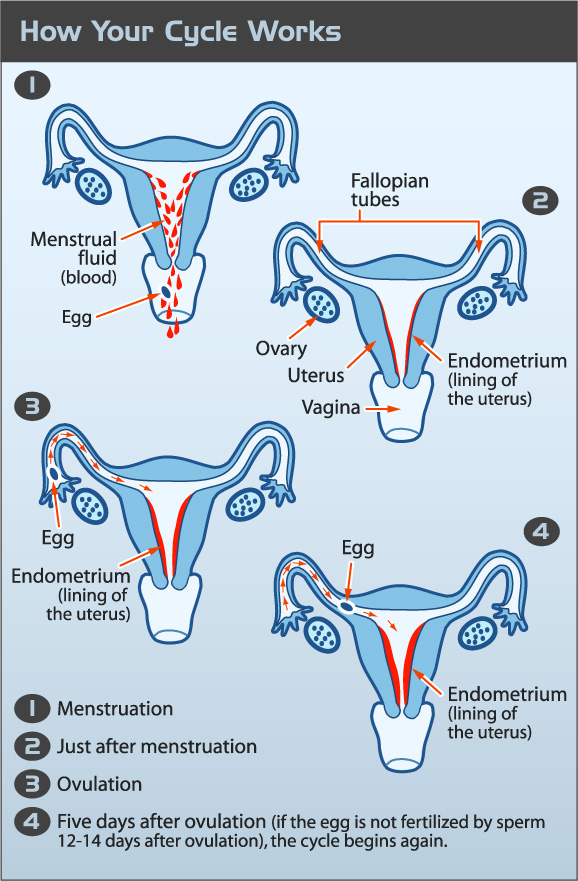 I was a little behind on speaking with my daughter about this topic.  The school had already given her a brief idea that her body was changing and that things would start happening.  She knew she would get something called a period; however they didn't explain what to do when something happened or how to go about it. The day my daughter brought home the paper (granted she was in 5th grade at the time) I sat her down and asked what they told her. To my surprise they really did not tell her much.   For those who have not had the conversation with their daughter yet, this could be just the ice-breaker you need to open up the lines of communication and get the conversations rolling.  I wish that I would have actually brought this up to her before she got the information in school, but I never really thought about it until she had already brought the information home.
I knew the conversation would be awkward even though she confides in me for everything.   I sat her down in my room on the bed and we talked.  We didn't just limit ourselves to the biological aspects of what is happening inside of her, like is often done in the school setting, but we also included things that young girls should really know about.  I wish my mother had talked to me about these things when I was young.  I always felt like an odd duck growing up, and I think it was partly because I never knew about any of this "girl stuff" until I heard about it from friends, or saw it on TV.
My daughter and I talked about her changing body and everything that goes along with that.  I mentioned that she may need to shave under her arms when the hair starts to grow, as well
as wear deodorant.  We talked about wearing a training bra and getting used to the idea that she will be developing in that area soon.  A lot of girls feel embarrassed when they start to develop, especially if it is before their friends do, but I let her know it is nothing to be embarrassed about and everyone develops at their own rate.  We also talked about how to start getting prepared for her monthly visit.
To help get her even more prepared I let her know that if she ever had any questions to come to me and I would help her answer them.  I told her not to be embarrassed about it because it would always remain between just me and her, and every mother and daughter will go through this.  I also told her about the Hello Period website where she could go to ask questions of other teens, and also know that she is not alone in this process.
—————————————————————
Since I am not an expert on this by any means, just a mom with a daughter, I figured I would take to my Facebook page to see what other moms had to say about their own experiences, or the experiences they had with their daughters.  Here are some of the suggestions from our fans:
Breanna L. says:  "I bought my daughter the book My Body, My self.  It is wonderfully written and has lots of questionnaires and activities to do in it. I had my daughter read it and every night we talked about what she had read, and I answered any questions she had. When she did have her first period her and I went out to celebrate with ice cream and I left her a basket with maxi pads, new panties, new body wash, and all the things a young woman deserves."
Kimberly C. says: "As a homeschool mother, it is ALL on me, no school to help, no weird movies from the 60's or trained teacher for the topic. Just me. First thing I did was get the book "The care and keeping of me" from American Girl. It is factual but also speaking to a younger girl. It has cartoon photos of the needed information but not about sex. It is very helpful. Then we had the talks and to my shock, my daughter has no shame or fear about the topic like I remember feeling. She is very matter-a-fact about it. When it did come she had questions but still matter-a-fact about it. I was the one that had to try and control my emotions and try and be a grown up and not embarrased about the topic. She was all set with what she needed and shops for her own products and has asked about tampoons. Goodness am I am mess with that topic, I did not start using those till after I had sex so I am rather useless and need to keep thinking on how to be helpful beyond having her read her book and let her keep trying to use them. I still have to try to be open and calm about the topic and not act like it is something dirty to be hidden and not talked about. My kid rocks!"
Jessica R. says:  "My mom made a big deal and jumped up and down excited when I had first gotten mine.  She supplied me with plenty of products so that it seemed like a fun thing."
Jamie D. says:  "When I got my period it was incredibly painful. My mom didn't believe that I was in pain and made me help clean the basement. When I discovered I had "entered womanhood" I cried and she laughed.  A little empathy would have been nice."
Tara L. says: "My suggestion is introducing the mechanics earlier. Am I the only one who hates the stork? I used to tell my little ones that "Daddy put the baby in my tummy." You don't need to get graphic. If they ask how, you just put enough information out there for them to understand. I said (my kids were 1, and 3 the last time I was prego) that Daddies and Mommies can make babies when they are in love. When my sister had fertility issues and they overheard some of it a few years later I explained that there were doctors that could help daddies and mommies when they had a hard time putting a baby in mommies tummy.
The next thing to remember is that you don't want them to learn from their friends. You want them to learn from YOU what is going on in their bodies. And remember that kids know a hell of a lot more than we did, thanks to the internet. (Just because you monitor your kids internet, doesnt mean their friends' parents do theirs…and kids tell each other about all that kind of stuff.)"
Melissa L. says: Take her shopping with you the next time you go for supplies. Use that as the jumping off point for your discussion."
—————————————————————
Here are nine key things that I think need to be discussed when you are talking with your daughter about getting her period (feel free to let me know any additions, changes, or thoughts you have on this by commenting below!):
Your monthly cycle – what does this even mean?
Shaving – to do it or not to do it (legs and armpits or just armpits or none)?
Swimming and your period – how the heck do you do that?
Body odor and you – using deodorant and cleaning yourself (yes down there too!).
Cramps – If you get them what can you do?
PMS – it will come up, might as well talk about it now 🙂
Acne — why do I get it and how to deal with it!
Tampons vs. Pads – what's the big deal?
Sex — You don't want to discuss it, but better now than when it's too late!
Another thing that might be worth mentioning to your daughter if she will be buying her own personal care products is how there are products designed just for her.  Kotex offers a line of products called U by Kotex Tween that are specifically designed for younger girls.  They come in fun bright colors, and are sized to fit younger girls.  Do you remember what it felt like back in high school walking around with a bulky pad?  Your daughter will never have to go through that with the U by Kotex Tween products!
Written by Jesica and Heather.
Disclosure: The Mommy Bunch wrote this review while participating in a Brand Ambassador Campaign by Mom Central Consulting on behalf of U by Kotex Tween and received products to facilitate my post and a promotional item to thank me for taking the time to participate.
Find additional posts about this topic here:
KotexMom: