This post is sponsored. All opinions are my own. At The Mommy Bunch, we recommend items we hope you'll enjoy and may earn a commission on affiliate links included throughout this post.  
---
I love giving personalized gifts for the holidays because, to me, it just makes the gift feel so much more special. If I've taken the time to think about what someone might like, and then make it, you know that it is something that came from the heart.
If you love giving gifts that have a little extra meaning behind them too, check out this list of 25 of my favorite personalized gifts. You're sure to find something you can customize to make it just right for that special someone in your life!
25 Personalized Holiday Gifts You Can DIY Today
This Christmas At The Cabin reverse canvas comes together quickly and easily, and you can swap out the name and other text to make it just right for the recipient on your list.
---
These personalized ornaments from 5 Little Monsters would be great for an ornament exchange or a fun craft to do with your kids!
---
These DIY gift tags are the cutest thing I've seen in a while! Any gift recipient is going to feel truly special to have a custom made gift tag that looks like this! See how to make these engraved acrylic tags over at Giggles Galore.
---
Oh Happy Day shows us how to make Swiss Alps inspired ornaments, edelweiss garlands, and gift tags. If you have someone on your list who loves the Swiss Alps, or if you are reading the book, Heidi, like we are, this would be a great project to complete!
---
This make & take brunch from Shondell's Decor is a great way to let everyone get in on the crafting fun. Make some personalized wine glasses for your guests… or have them make their own while they are there. How fun!
---
I love all the things you can make with the Cricut perforation blade, and this advent calendar from Sally's Angelworks is such fun! Customize the design to make it yours.
---
A dad t-shirt and koozie from Craft Box Girls are perfect for all those dads who have it all. You don't even have to change up the design, it's all ready for you to hit 'make it' and get to work!
---
My friend, Beth over at Kingston Crafts shows you how to make this super cute custom wood tree craft.
---
Moms Without Answers made some really cute Christmas pajamas with the new Cricut Infusible Ink. Check out this simple project that you can customize for your own family.
---
I'm going to take inspiration from The Soccer Mom Blog and make my very own version of these Christmas coasters. I have a few people on my list who may be getting a few of each — LOL!!
---
I love the simple and elegant look of these personalized Christmas stockings from Hazel And Gold Designs. Customize the design with names for your family and you can get the same look in no time!
---
I love the idea of a Christmas Eve box with personalized items. Artsy Fartsy Mama shows us what she put in hers and how to put it all together.
---
Sending your kids over the river and through the woods to spend the night at grandma's house? Check out these fun personalized tote bags from Rad And The Rest.
---
Rainbow glitter tumblers are sure to be a hit for any recipient on your list. Happiness is Homemade shows us how to make these super glittery ones!
Note: This project is a little more advanced as you need epoxy and a cup turner, but if you are brave enough to handle glitter all over your house, you are brave enough to attempt these!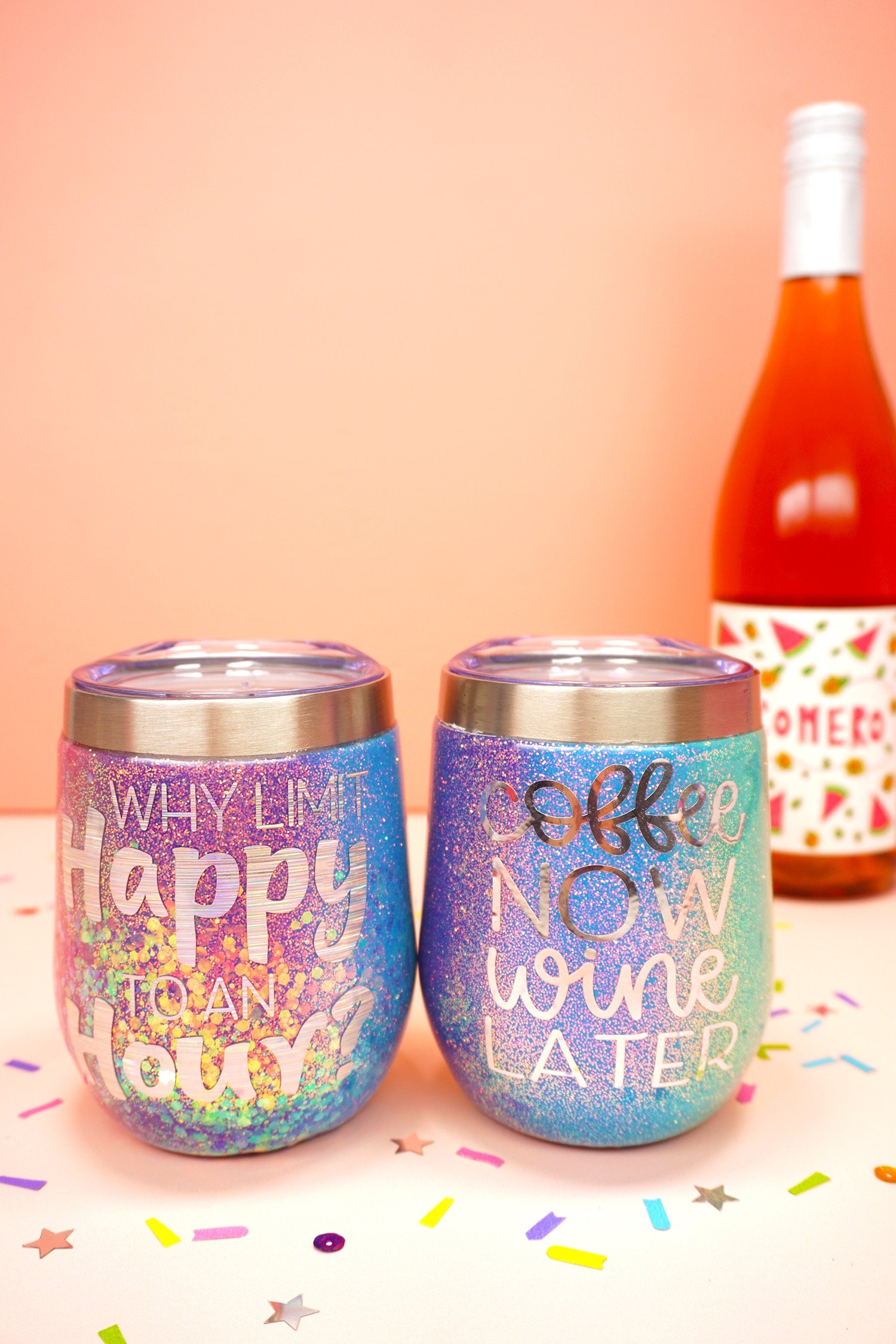 ---
I'm in love with this personalized farmhouse Christmas pillow from A Piece Of Rainbow. See how easy it is to make one of your own!
---
Have a writer in your life? Why not gift them their very own monogrammed journal?! See Kate Sew shows you how easy they are to make.
---
I love tea towels, and if you can make a gift that is really personal to the recipient, what better way to do it? Check out how Thirty Handmade Days made this one.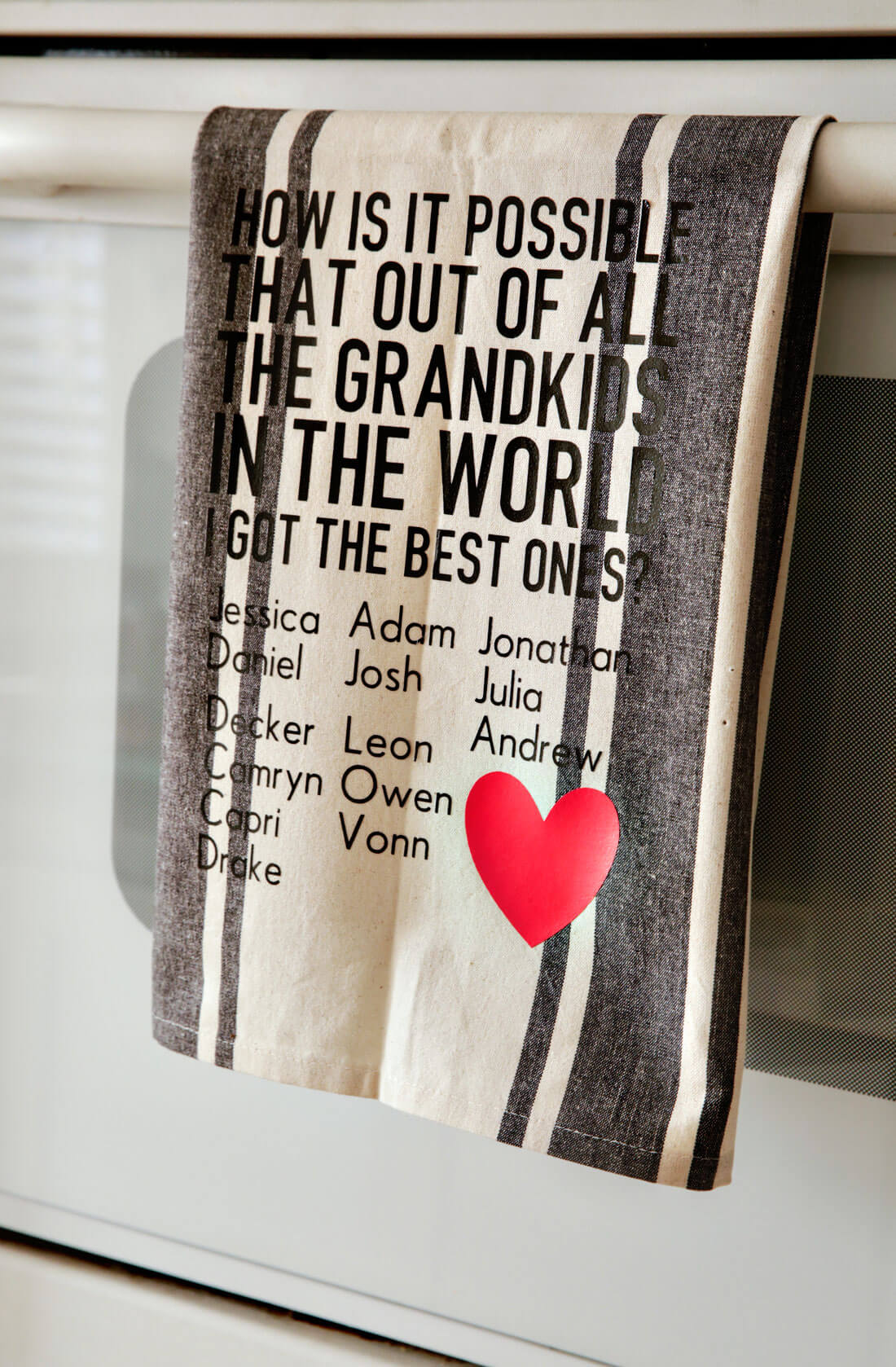 ---
I don't know too many people who don't like coffee. Over The Big Moon shows us a few gift ideas for the coffee lover in your life.
---
Don't forget the teens/tweens in your life! These monogram makeup bags from Small Stuff Counts are simple yet sophisticated.
---
I love the fact that Sustain My Craft Habit used an actual outline of each of her kids' hands when making this pillow! Read the blog post to see how she did it and to customize your own.
---
Could this teapot set be any cuter? One of my favorite Christmas songs ever is now going to be a new craft project on my list! Best Of This Life has the instructions for this easy project.
---
Lemon Thistle made this cute DIY wooden Christmas Eve sign and shows you how to make one of your very own.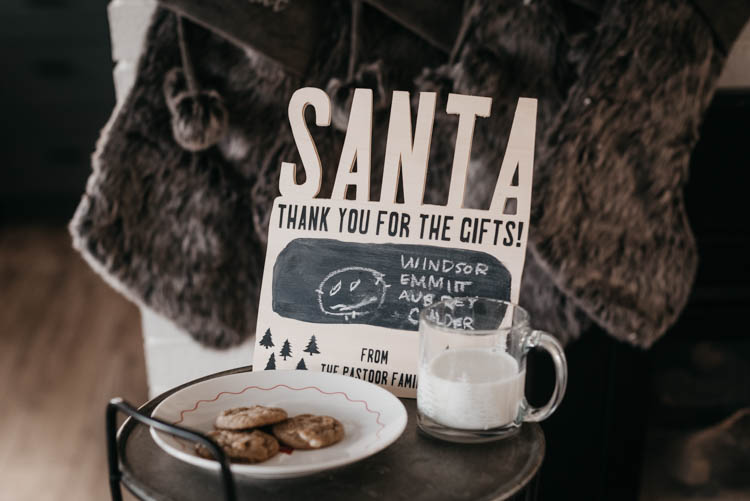 ---
The Cards We Drew created this fun and festive DIY holiday gift bag. Wouldn't it be fun to give all your gifts in something like this?
---
Another take on some personalized holiday stockings. See this design over at Doodle Craft Blog.
---
The science teacher in me absolutely loves this DIY personalized chemistry set for kids. In fact, I think this project has been added to my to-do list! See how it all comes together at Housewife Eclectic.
---
There are so many fantastic personalized gift ideas here that I can't wait to get started on them all. My craft room is going to be a busy place as I try to create something perfect for everyone on my list!
Have a favorite project of your own to share?
Want to ask a question about this project (or any others you have)?
Head over to our Cricut Crafting Group on Facebook and ask away!
---
Out of time and need a personalized gift fast? Try Printerpix customized photo blankets! Printerpix customized photo blankets will give you the opportunity to make these presents useful and meaningful at the same time. Even though you didn't handcraft it yourself, you'll still have a gift that you've put some thought into and any recipient is sure to love.
---
This is a sponsored conversation written by me on behalf of Cricut. The opinions and text are all mine.