I just finished reading a book called Remnant by Roland Allnach, and I have to say it was quite intriguing and interesting.  For those who are into science fiction, this is worth a look!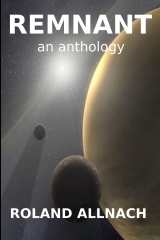 REMNANT is an anthology of three novellas within the speculative/science fiction genres.  The stories are linked in theme by characters seeking self-truth, redemption, and their moral center.   The novellas, in order of appearance, are: "All the Fallen Angels", in which a convicted war criminal attempts to make peace with his past; "Enemy, I Know You Not", in which a military officer that was captured and tortured tries to find his loyalty in an abyss of suspected betrayals; and "Remnant", in which the survivor of a global pandemic is confronted with the prospect of making peace with his memories when other survivors attempt to bring him back from self-imposed isolation.
  Author Bio:
Roland Allnach has been writing since his teens, but did not actively seek publication until 2007.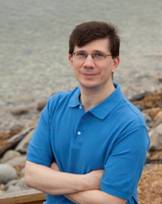 Since then ten of his stories have been published, one of which was a 2010 Pushcart Prize nominee.  Remnant, his first book, was published in 2010, and a second anthology, Oddities & Entities, was published in March 2012.
REVIEW:
Now usually they say save the best for last, but in this case I think I want to talk about my favorite of the three novellas first.  "Remnant", which coincidentally is also the title of this anthology, was the last of the three novellas printed in this book, yet I found to be my favorite.  I found the writing to be superb, and the characters to be very likable, as well as people that I could relate to.  Since this story is one set on Earth, instead of outer space, I found it easier to follow than the other two novellas; plus it is a story line that I was interested in (think apocalyptic end of days type of thing = interesting to me!).  The only thing that I didn't like was that it ended too soon.  Since it is a shorter story there was only so much time to really get into it, but I felt as if I could have kept reading and wanted to get deeper into the story by the time it ended.
"All the fallen Angels" was quite an intriguing story for me.  It centered around a convicted war criminal who was attempting to make peace with his past.  I found as you learned more about what he had done, and the reasons behind it, the more likable this character became, and the more drawn into the story I became.  Although this story was a little more difficult for me to follow at times, due to the setting of outer space and spaceships, etc.; I found that in the end, I was hoping for the story to continue, and was disappointed that it had to end.  If Roland ever decides to turn this into a full fledged novel and expand on the story even more, I think he would have something great on his hands!
"Enemy, I Know you Not" was the second novella in the anthology.  This story is not one I would normally choose for myself to read since it involved war and military conflicts, which are not my type of stories; however, the story was written well, and I have to say that if you do like this kind of story, you will not be let down.  The characters were very well embedded in the plot, and the twists and turns kept you on your toes.
RATING:  4 out of 5
If you wish to learn more about REMNANT, or any of Roland's other works, please  visit his fan site here.   You can also find an excerpt of REMNANT if you are interested in taking a look at Roland's superb writing abilities.
You can find additional reviews of his stories on Amazon and Barnes & Noble.
Disclosure:
This was a paid review in which The Mommy Bunch received a free copy of REMNANT, as well as monetary payment to review it, however, all opinions are strictly our own.