This is a sponsored conversation written by me on behalf of Cricut. The opinions and text are all mine.

When the Cricut EasyPress™ first came out, I had to have one. My old iron just wasn't cutting it when it came to pressing larger projects on t-shirts and canvases and I knew the EasyPress would make things a bit easier.
My iron did get the job done, but it took a long time, and sometimes I would get irregular lines due to uneven heat and pressure as I moved the iron around, and larger designs were truly a pain to press.
As soon as Cricut announced that they had improved the EasyPress with the upgraded EasyPress 2, I was really excited. My original EasyPress works great for regularly sized t-shirts, and some smaller canvases, but to really the new sizes for the EasyPress 2 line work great for really small projects like onsies, and much larger projects like a reverse canvas.
Reverse Canvas with HTV Using X-Large EasyPress 2
The first project I had to try with my new EasyPress, of course, was a reverse canvas. I've done them before, but none as large as the one I was going to attempt. I have several 16″ x 20″ canvases lying around and I knew I had to make something fun.
The largest EasyPress size would work out great for getting more coverage with each press, even and steady edge-to-edge heat, and a very quick warm-up time to make my projects go faster.
Merry Christmas Reverse Canvas
Materials Needed
Directions
To make a reverse canvas, the process is pretty simple. First, you need to flip your canvas over and remove it from the frame it is attached to. You can do this by pulling the staples, or my preferred method is to simply use the TrueControl knife to slice off the canvas just outside the staples. You'll have plenty of extra material anyway so cutting it away won't make much difference.
Once you have the canvas completely removed, I like to go ahead and stain the frame right away. You'll be attaching the canvas back to this frame, but you'll be able to see it on the outside so I think a stain makes it look really nice.
While the stain is drying, I go ahead and cut my HTV out using my Cricut Maker, and then apply to the canvas using my EasyPress 2. Since I chose to use quite a large canvas and my design was multiple colors, I did have to press in layers.
I started by lining everything up where I thought I would like it, then pressed one color at a time.
Pro Tip: To find the proper press time and temperature for each material, refer to this guide on the Cricut website. 
For my glitter HTV, the temp is 270 degrees for 30 seconds and warm peel. For the regular black HTV, it is 340 degrees for 30 seconds. Because they required different temperatures, I pressed the black first with a light press (less time), then pressed all of the glitter into place with another light press, then did a final press for a full 30 seconds over everything.
The final step is to simply attach the canvas back to the frame by stapling it on the back side of the wood you stained previously.
Be sure to pull the edges taught to create a nice, firm canvas.
If there is any extra canvas hanging over the edge of the frame, simply trim it off.
Add some sawtooth picture hangers, or your hook of choice, and you are done!
The Santa Design was an image downloaded from Design Bundles. 
---
Butterfly Flutter Reverse Canvas
My second reverse canvas was the exact same size, but this time I grabbed some butterflies meant for a paper project (this project right in Design Space) and cut them out of HTV instead. I used patterned HTV to create a fun effect and I think the results turned out great!
Since each butterfly was a different color, I had to place them each separately exactly where I wanted them to go, then press several times in order to get the full coverage I needed for the entire canvas.
I did layer a few butterflies over one another as well. The iron-on protective sheet really came in handy here as I moved from spot to spot along my canvas giving each butterfly a press.
After ensuring that each butterfly adhered with a quick press (just a few seconds), I went back over the entire design with a full press for 50 seconds at 340 degrees.
More About The EasyPress 2
Sizes Available
The new Cricut EasyPress™ 2 comes in three sizes. 6″ x 7″ for smaller projects like onesies, 9″ x 9″ for mid-size projects like t-shirts, and 12″ x 10″ for banners, blankets, large canvases, and more.
You can see my Homemade Wooden Ornaments project using the smallest EasyPress 2 (coming soon!). If you want to see what I've made with my 9″ x 9″ original EasyPress, you can find a fun iron-on t-shirt tutorial here.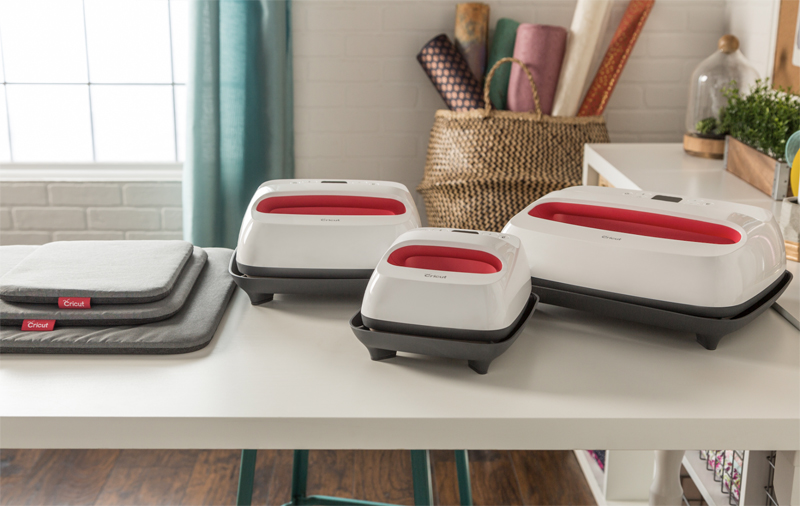 How The EasyPress 2 Works
Get professional iron-on results without the guesswork. With its unique edge-to-edge heat plate, perfectly even heat up to 400°F, and three new sizes to suit any iron-on project, Cricut EasyPress 2 gives you flawless transfers and lasting results.
There are no vague dials like on an iron either. You get precise temperature settings on an easy to use digital screen that has a timer built in!
Feature summary
Pro-level performance. Home-friendly design.