So I am probably a little late to the party, but two years ago was the first time I finally broke down and decided to get a smartphone. It was a touchscreen.
I had declared vehemently that I did not want a touchscreen as I didn't like them, and I felt I wouldn't be able to use it properly, especially in the winter.
The first winter I was right about one thing, I could not use the touchscreen without taking off my gloves. The touchscreen itself was actually quite amazing. The technology has come a long way, and I was pleasantly surprised at how much I liked it.
This year I got a new phone, and a new winter is fast approaching. We don't have any snow on the ground yet, but it sure is cold outside, and I really want to be able to use my phone as I walk to and from my car before/after work. This is not possible unless I take off my gloves, but then my hands freeze.
I needed a solution; what I found was Swypegloves! These amazing gloves keep my hands nice and warm, are great for driving, and allow me to use my touchscreen without taking the gloves off!
I am so thrilled to have a pair of gloves that actually work and do what they say they will! Still not sure? Watch this little video I made showing you how well they work!
The best part about any company is knowing they stand behind their products. Swypegloves is no exception. The first pair of gloves I received from them had a little hole in it by the thumb. Not only did they send me a replacement pair, they sent me an extra pair as well! That is great customer service!
If you are looking for a great pair of gloves that also works with a touchscreen device, you should check out Swypegloves. I love them, and I'm sure you will too!
ABOUT SWYPEGLOVES
Ordinary gloves do not work with most touchscreen electronic devices.  These  innovative gloves, infused with conductive fibers allow you to operate your touch sensitive screens and devices with ten finger flawless precision while keeping you toasty warm!  Most other touchscreen gloves only have conductive fibers in the index finger, which can make them frustrating to use.  SwypeGloves are compatible with all common touchscreen devices like iPhones, iPods, iPads, HTC Droid and more.
GIVEAWAY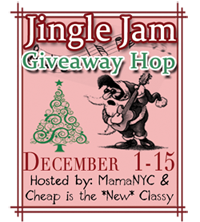 Welcome to the Jingle Jam Giveaway Hop hosted byMamaNYC and Cheap Is The *New* Classy!
Let's get ready to jingle and jam with some amazing prizes geared towards music and everything else. This event will run from December 1-15th, so you will have plenty of time to enter all of our giveaways (check the linky at the bottom of the post)! Good luck and Happy Holidays!
Want to win your own pair of Swypegloves?  Simply enter on the giveaway form below for your chance! (US 18+)




Disclosure: The Mommy Bunch was provided a free product to facilitate this post, all opinions are our own.