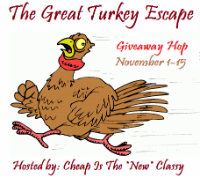 Welcome to The Great Turkey Escape Hop hosted by Cheap Is The *New* Classy! A bunch of cool bloggers have come together to bring you this awesome Thanksgiving themed giveaway hop! With NO TURKEY!
This event will run until 11/15 to give you plenty of time to enter on everyone's blog for more chances to win fabulous prizes to give you a little something extra to be thankful for this holiday season! All of the prizes are worth at least $25!
GIVEAWAY PRIZE
Here at The Mommy Bunch we are offering up a prize that we think is something every home should have/watch.
Recently I had the opportunity to watch the documentary, The Greater Good, and I truly think everyone should have the chance to watch this.  This documentary focuses on the need for more research and testing for vaccinations, instead of making them a one size fits all product that we just shove into every child.  You can read my full review here: Greater Good
Please enter on the form below for your chance to win…you really will want to see this!

Don't forget to enter these awesome giveaways: