Welcome to the Winning For Thanksgiving Giveaway Hop hosted by MamaNYC!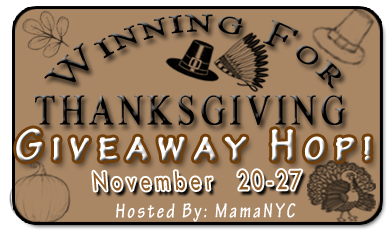 We wanted to show our readers just how much we appreciate them, so we've gathered together and have some amazing prizes up for grabs. It's hard to believe, but Thanksgiving has arrived and we will all be busy showing our thanks this week. This event will run from November 20-27th, which means you will have plenty of time to enter all of our giveaways. Good Luck & Happy Thanksgiving! 
THE MOMMY BUNCH PRIZE PACKAGES
I have an amazing prize package to give away in this giveaway hop, along with plenty of other giveaways you can find just by glancing at the sidebar!
Our prize comes from Reading Horizons. If you home-school, or just want a way to improve your child's reading skills, the Intensive Phonics Reading Kit
is for you!
You can read our story using this very same kit by going here: Month 1, Months 2-3.
ABOUT READING HORIZONS
The Discover Intensive Phonics program is taught through multi-sensory, direct instruction, helping students internalize decoding/word attack strategies for more accurate and fluent reading.  Phonics lessons can be reinforced through the use of Discover Intensive Phonics computer software.  Computerized lessons, practice sessions, and phonics activities correlate with every classroom lesson for individualized skill reinforcement. 
GIVEAWAY
Simply enter on the form below for your chance to win the Intensive Phonics Reading Kit ($299 Value).  (US 18+)

Disclosure: The Mommy Bunch received a free product to facilitate this post. All opinions are our own.